Any college bound student's dream is to get accepted into a college or university by the time they graduate from high school. Being accepted early means less stress and anxiety, as well as the ability to properly plan the transition from home life to college life.
As exciting as this is for high school seniors, it is also tempting to believe that the hard work is done, leaving students free to coast through the rest of the school year until graduation. However, getting into college doesn't mean slacking off. Colleges are smart and know such a temptation is a great one. To make sure students stay on their Ps and Qs, a mid-year and/or final report may be thrown into the mix. What do these documents mean for soon to be graduates gearing up for college?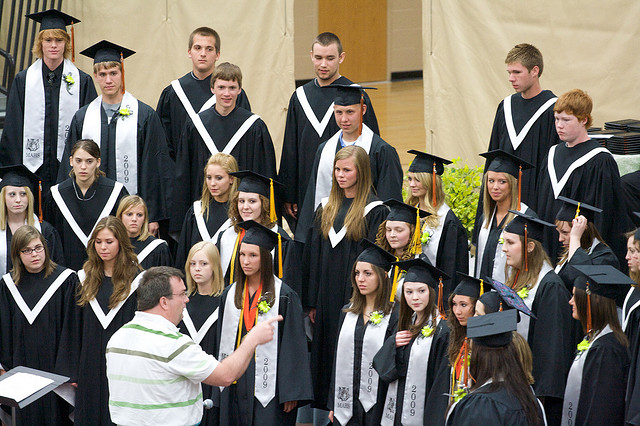 A student's final grades–even during senior year–are of important value to colleges. So much so, that they want to ensure that the individuals they've accepted onto their campuses maintain their studies and marks up until the very last day of school. Since there is no realistic way for colleges to monitor students on a daily basis, they rely on mid-year reports and final reports.
When submitting high school transcripts to colleges and universities, it is often during the middle of the school year. At that time, the final grades for senior year haven't been listed yet because school is still in session. After a college has accepted a student for enrollment, they might make a request for a mid-year report. This form is sent to the student, which is then taken to the high school, where it is filled out by a school official and sent off directly to the college that requested the report.
A final report is similar to the mid-year report in the sense that they both provide a college admissions office with the final grades received during senior year. The main difference is that a student will need to submit a mid-year report if they turned in their transcript during a time when it was still too early during their senior year to have any final grades assigned. A student needs to submit a final year report if some but not all of their final grades were listed on their transcript at the time they turned in their college application packet. The final year report alerts a college or university right away as to what marks a high school senior received after graduating.
Before these reports get sent out to students to be completed by their high schools, colleges typically also send out a formal letter to let students know that while they have been accepted for the upcoming school year on campus, they are obligated to maintain high marks. Failing to do so, as indicated by the mid-year and/or final year report, could place a student on academic probation or–even worse–result in the college or university taking back their decision to accept a student for enrollment.