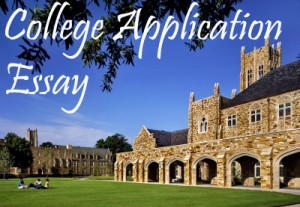 Various parts of the college admissions process are rated or weighed in a little different.  Your college application essay is usually important to very important in this process.  A student with a stellar academic record and a poorly executed essay can get rejected.  On the other hand an exceptionally written application essay can help students with so-so scores get into the school of their choice.  Taking the time and writing a well-constructed essay and having it revised every step of the way can be an extremely helpful tool in your college acceptance.
The following are a few helpful hints on writing your essay.  Any extra points from your essay readers can only help your chances.
Avoid Listing Everything:  There is a tendency to want to write every single accomplishment and activity into your essay.  Do not make that mistake.  Reading it is like reading a tedious list of blah blah.  You will have a chance to provide this information on the application where you can list all your extracurricular activities.  Make sure to save that for this space.
Your essay should have a clear focus telling your story.  Talk about your passions and have your personality come through.  A story a hardship or a life changing situation with details and a good narration will tell way more about you than a list of your achievements.  Test scores and grades will show that you are up to the academic challenge, so use your essay to show that you are thoughtful, mature and ready for this next step in your life.
Humor???:  It is ok to lighten up the mood of your essay by using a little humor in it, but do not overdo it.  Filling your essay with bad puns or off-color jokes will only cause that essay to pretty much be discarded.  Your job is to answer the essay question thoughtfully, making your reader smile is a bonus.  Take this essay seriously and if humor is not your strength, do not use it.  It is that simple.
Tone:  The overall tone of your essay is also very important.  You want to talk about your accomplishments and things that make you look "good," but you do not want to sound like you are bragging.  Balance the pride you feel about your accomplishments with humility and a generosity that fits your nature towards others.  Also, avoid sounding like you are whining about your life.  Try to demonstrate your skills through your essay and not complain about all the injustices that have led to any low scores on your transcripts.
Show Your Character:  Many colleges rate "character and personal qualities" as important factors in their admissions decisions.  Through your essay you have an optimal opportunity to show those in admissions the type of person you are.  College do not just look at straight A's and high SAT scores, they also want students that will make good citizens for their campus community.
Do Not Slide on Mechanics:  Errors in grammar, punctuation, and spelling can hurt your chances of getting accepted into a school.  These errors are distracting and make your essay difficult to understand.  Even a few errors can be a strike against you.  You are showing that you do not care enough to have your work revised and that it does not matter too much to you.  It is imperative to have proof readers ready to help you revise your essay.  At least one, but a few would be better.