Various schools throughout the U.S. have different steps in their admissions process.  Of course, there is the application along with your personal statement and all your educational and financial information.  Many schools require an interview with an admissions officer which helps to get to know the applicant at a more personal level.  Some schools within their admissions process either require or give as an option an interview with an alumni interview.
An alumni interview is aimed at getting to know more about a specific school through the experiences of an alumnus and in turn for that alumnus to learn a little more of the student applying.  This enhances the admissions process at a more personal level.  After the interview, the alumnus reports their impressions of the students to the school.  This interview can vary in degree to which it accentuates your application.
Following a few rules of thumb can help your interview go smoothly.
Research the school:  Show that you care enough about the interview to learn as much as you can about the school you are applying to.  It usually impresses the interviewer when a prospective student demonstrates that they did their homework.
No protective parents please:  This is a time to show your maturity and to show your individuality.  Being yourself and expressing your opinions and thoughts are a lot easier without your parents imposing theirs.
Dress to impress:  This does not mean you have to wear a suit, but take the time and dress appropriately.  Casual is acceptable as long as it is not sloppy.  Dressing in an untidy or ragged manner makes a negative first impression and that in turn, unfortunately may make it look like you do not care.  As the saying goes, you don't get a second chance at a first impression.
Be yourself:  This is your chance at showing the school who you really are beyond that piece of paper they call an application.  The interview should be a "conversation" and not memorized diction.  One word answers also will help the interviewer get to know you better.
Supplement your application:  Do not restate your answers on your application.  Your test scores, grades and extra-curricular activities are in black and white.  Take this time to supplement those answers with anecdotes and/or explanations that elaborate upon your application.  Your enthusiasm for going to that school will show doing this.
Ask question:  This interview is for the school to get to know you a little better, but it is also a time for you to get to know the school.  Come prepared to ask a few question to further show your interest in being accepted.
Do not forget to say thank you:  Manners are manners no matter when or where.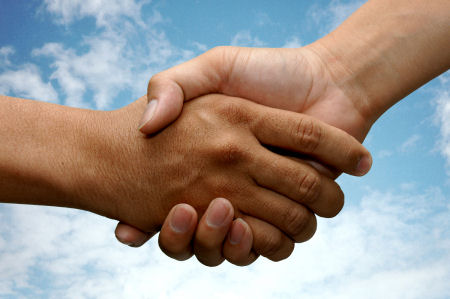 Remember that these interviewers are usually volunteers.  Take the time to thank them for their time in meeting you.
Every part of the admissions process is important.  Take your time and research all aspects of the process and give 100% of yourself at every step of the way.