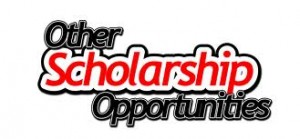 When it comes to paying for college, there are many options available out there for you to choose from.  Of course, filling out the Free Application for Federal Student Aid (FAFSA) is your first step.  This will give you the opportunity to know how much you can qualify for student loans.  This money needs to be repaid after graduation.  Now there are also plenty of scholarships out there for you to thumb through to find those which you qualify for.  There are literally thousands that you can research to find out how to qualify. It may be by academic achievements, locality, organizational affiliations or other criteria.
Along with these scholarships there are others that typically do not involve your academic achievements, test scores or financial needs.  These are a bit more competitive because they are so easy to apply for, involving contests or sweepstakes where the winners are usually chosen at random.  This means that the less people who apply, the better your chances of winning.  Requirements can be as simple as sending an email or completing an online form.  Does not matter how much your parents make or no writing on essay on why you should win.
As you narrow and specialized your searches for scholarships, the better your chances usually are of getting them due to the smaller pool of applicants.  Find those legitimate sites and consider applying for a chance to win especially if it is not a time consuming application.  Be cautious of sites that ask for payment or a processing fee.  You should not have to pay to apply.
Here are a couple of simple contests for you to look at and apply for.
College Prowler's $2,000 "No Essay" Scholarship
This award targets scholarship seekers who may be a bit busy to write a long essay.  Awards help cover tuition, housing, meal plans, books, computers or other college expenses.  It is open to all students who are planning to be enrolled in school within twelve months.  Monthly winners are chosen randomly.  One entry per person, but you can apply every month.  This month's deadline is February 29th.
To apply could not be simpler.  Go to the website and take a minute to fill out the form found there and you can be the next winner.
The Great Sallie Mae Giveaway is open only to people whose student loans are currently being serviced by Sallie Mae, Inc.  There are some loans that are ineligible for the giveaway (see website for more details).  Sallie Mae will pay off your Sallie Mae serviced student loans up to $25,000.  If you currently have these student loans, it may be very beneficial for you to apply.
If you enroll with the agency's online billing service, you will receive an additional two entries per month for the sweepstakes.  Look into the Sallie Mae website to get more detailed information about the rules and regulations.
These are only a drop in the bucket compared to the deep pool of contests available.  Take the time and research all scholarship possibilities.  It will be well worth it.