Sometimes looking at brochures and websites isn't enough to find out if a certain college or university would be a good fit for a student. This is where college tours come into play. However, because going on college tours does require taking time out of one's schedule–not to mention spending money to get there–it is vital that students and their parents know what to expect and how to prepare for this event.
Narrow Down The Choices First
If the list of choices is long, trying to arrange campus tours for all of them is going to be a huge task. Parents should have their child evaluate their list of choices and go through a round of elimination. College tours should be reserved for the top three maximum. The reason for this is not only to minimize the cost involved to attend the tours–which is more than likely a huge concern for those with tight budgets–it will also prevent students from becoming overwhelmed and confused about which school(s) to apply to. Redo the research, browse through the colleges' official websites, read up on the programs they offer, etc. until the list of choices is down to a more manageable number.
Plan Ahead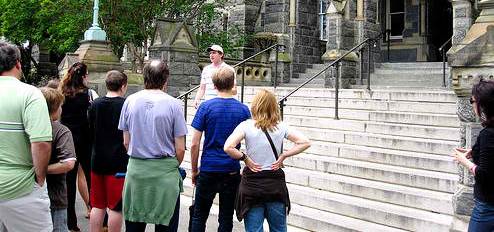 Planning for campus tours should be the same as planning for a vacation, as far as preparing for this trip in advance. Find out through each school how often they give college tours and choose a day/time frame well in advance so that everyone in the family can make sure they'll be able to go. It is important to take the tour on a day when class is in session. This is so the student can see exactly what it is like to be on campus during the term. You want to have the most accurate depiction of a typical day as possible. Don't forget to include scheduling an interview with an academic advisor, counselor or other staff member to get the real nitty gritty on what campus life would be like.
Have a Checklist
It's important for students to know exactly what they want out of the college or university they plan on attending. Make sure to bring your checklist of "must-have" things each time you and your family go on a campus tour. When you're done with the tours, compare checklists and see which school has everything you want or which school has the most items checked off the list, compared to the others.
Go Outside of the Tour
Sure, seeing the campus, facilities, classrooms and other parts are fun but it's also a good idea to think outside of the box. After the tour is over, venture out into the community around the college or university. Find out where the hot spots are for students to hang out, what the neighborhoods look like, the types of public transportation available, etc. This is the real heart of any school and will help students envision what living and going to school there would be like. No college tour would be complete without stopping by the dorms, either.