UC PERSONAL STATEMENT EXAMPLES AND GUIDE: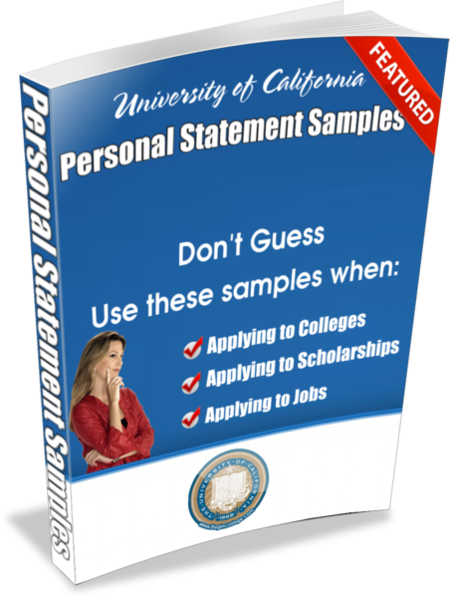 *FOR A LIMITED TIME ONLY*
BeginCollege is currently offering an Educational Discount on example personal statements of students accepted to UC's and a Guide to help you create a stellar personal statement. To bring in the Fall 2012 semester and the application season for students applying to four-year colleges and universities, take advantage of this discount that will end soon. Regular price for this Personal Statement Guide is $29.99, but it's currently offered at $9.99 for a limited time only. Proceeds will go to fund scholarships for students. See below for details.
The inclosed download includes
(1) A Personal Statements Guide
,
(2) Personal Statement Worksheet
,
(3) Personal Statement Resources
,
(4) Personal Statement Examples
of admitted students to UC Berkeley.  They are meant to assist you in your writing of your own personal statements. For personal help on your statement, please make an appointment with your academic counselor.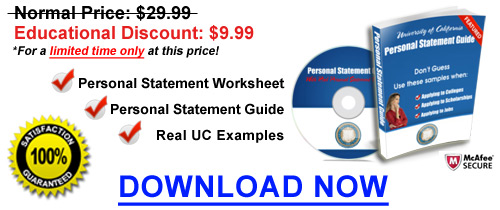 I applied to UCLA this past Fall 2011.  I used the above personal statement samples to help reflect on my experiences, structure my essay, and use the right tone.  I'm happy to say that with the help of BeginCollege, I was accepted to UC Los Angeles, my dream school! THANK YOU!!!
-Margaret, Class of 2014, UCLA
MORE REVIEWS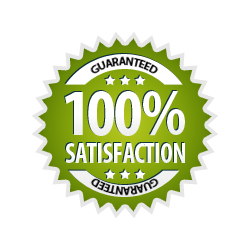 Student Scholarships
*With the contributions made to purchase this guide, proceeds will be used to provide a number of scholarships for high school students, community college students, and students at four-year colleges and universities.  Applications will be available Fall 2012 & Spring 2013, check back shortly.