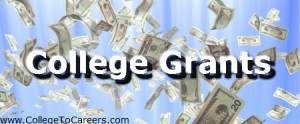 If the only thing stopping you from going to college is its price tag, then think again.  There are many ways to receive financial assistance; you just have to search it out.  One way is looking into grants.
Grants are similar to scholarships in that they are free money that you do not have to repay.  There are many grant possibilities out there.  Federal and state governments fund student grants, which are usually based on a variety of qualifications such as economic need, ability to pay, student status and academic requirements.  They are not exclusively based on your family's income.  The two main types of college grant programs are a need-based grant and a merit-based grant.
Need-Based Grants (Federal Grants)
The need-based grants are funded by the federal government which is one of the largest providers of student grants.  To qualify for these grants you must file a Free Application for Federal Student Aid (FAFSA) annually.
Federal Pell Grant:  The Pell grant is the most common federal grant.  It is funded by the federal government to help provide financial assistance to financially disadvantaged undergraduate students.  Depending on federal budget restrictions, your family's expected cost contribution and your student status, the amount of money a student can receive each year may vary.
Federal Supplemental Education Opportunity Grant Program (FSEOG):  The FSEOG is a type of government grant awarded to the students with the most need.  Using the financial aid Student Aid Report, the grant is usually awarded to those students whose family contribution is 0.  Once those students have been awarded grants the remaining federal FSEOG funds provide assistance to those with the next greatest level of need.
Work-Study Programs:  Federally funded work-study programs provide student with financial need with on-campus job opportunities.  This allows students to earn money toward their college expenses.
Montgomery G.I. Bill:  This is one of the oldest federal educational benefit assistance programs out there.  Students who have served in the military may qualify for a certain amount of aid for a college education or even a vocational/technical training.
Merit-Based Grants
The most common types of merit-based grants are state funded.  These grants provide free college money to students based on academic performance and sometimes in combination with financial need.  Students must meet GPA requirements and financial need requirements as well.  Applicants are usually required to fill out a separate form and most times along with completing the FASFA.  These grants are generally found on your home state's government or higher education website.
Applying for College Grants
The first form you should start by filling out is the FAFSA.  By filling this out you are already considered for any federal grants.  Remember all deadlines.  If you submit any form past the due date it will not be accepted.
State grant applications are a little different.  In addition to the FAFSA, there are applications for specific grants.  Be ready to provide copies of various documents such as school transcripts.
Also, check with the financial aid office at the school you plan to attend.  Many colleges provide their own grants.  Ask to see if there are any you qualify for.