Anyone with a natural interest in nutrition will find the career choice of a dietician to be one that is very fulfilling. In addition to providing education about this subject, dieticians play the important role of working closely with their patients to ensure they are promoting the highest quality of life.
What Does a Dietician Do?
There are actually three types of dieticians currently practicing in the healthcare field: clinical, research and registered.
Clinical dieticians are often found in hospitals and other similar healthcare settings, where they're in charge of creating and implementing meal plans for patients with special or strict dietary needs. In addition to working alongside medical professionals like physicians and nurses, clinical dieticians regularly interact with patients. Aside from teaching them the important basics of practicing proper nutrition, they provide instruction on how to create and maintain healthy meal plans once they've been released from medical care at the hospital. This ensures the patient will continue to receive proper nutrition without supervision from their physician.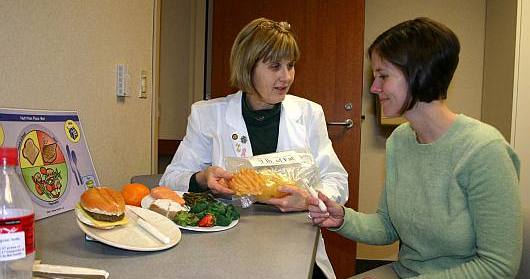 Research dieticians, as the name suggests, use their expertise for the purposes of research. Work environments that research dieticians call "home," include medical research facilities, universities, government agencies and food manufacturing plants, among others. This type of dietician also plays a "teacher" role and regularly provide education to students, medical professionals and other groups about the importance of food health in society.
Registered dieticians work in a variety of places, including hospitals, military bases, schools, restaurants and nursing homes, to name a few. Registered dieticians typically assume administrative roles, where they are responsible for overseeing the processes related to food management, creation and distribution of meal plans, etc. These professionals also carefully evaluate the meal plans to make sure all items meet nutritional guidelines, any special dietary needs and are within the company's budget.
What Are the Educational Requirements?
Unlike nutritionists, whose educational requirements aren't exactly well defined, future dieticians have a fairly straightforward path to follow. The average registered dietician has at least a 4-year degree in nutrition, dietetics or food service management. To be registered with the American Dietetic Association (ADA), dieticians are required to complete a training program approved by the ADA, participate in an internship and pass a test. Being registered opens up dieticians to seek employment in the field professionally. However, there are additional conditions that must be met in order to maintain their "registered" status, which are determined by a person's state of residence. In most cases, registered dieticians must complete and show proof of receiving 75 hours of continuing education every five years. Failing to meet this requirement could mean losing their registered status, making it difficult–if not impossible–to secure or maintain employment.
Many registered dieticians go a step above and earn their post-graduate degree, such as a Master's or Doctorate in order to acquire not only additional training and knowledge but to position themselves for career advancement. This means the ability to earn a higher salary. The highest earners in this position typically start at $60,000+/year.