You have done much research on many colleges by internet, brochures and word of mouth.  You have gone on campus tours at your top choices in schools.  Now you have come to the pinnacle moment, making your choice.  But before making that final decision, here are a few things you should mull over.  Sometimes looking at these areas, students take the wrong things into consideration.  This can cause your college years to be excruciating, and maybe cut short.  Be careful.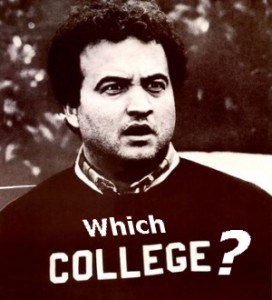 Deciding on in-state or out-of-state colleges.  If you are looking at attending college out of state, factor in a few things.  School is already costly going out of state will add to that price tag in many ways.  Tuition will be a major consideration, but if you have that covered with scholarships, financial aid or any other means then good for you.  Now remember to factor in the extra cost of home visits, especially during holiday breaks.  Flying, driving, taking the train or any other type of transportation will cost money, so do not over-look this influencing detail.
Do not discount community college.  Some students feel that community college is beneath them or that it is not a "college" like attending a university or state college.  This is definitely not the case.  Attending a community college actually has its advantages.  First, your top choice in schools may be too expensive.  Transferring from a community college after a few semesters is perfect.  It will allow for you to save some money and help you decide on a major if you had not totally decided on one.  Also, you may not be absolutely sure that you want to attend college, community college can be an eye opener in this regard.  Plus, it is a great way to get your general education classes done in the most affordable way.  It is better to attend community college instead of not attending college at all.
Do not make your final choice based on emotion.  One of the biggest changes that you will be experiencing when you attend college will be leaving you family and friends.  This also includes that boyfriend or girlfriend.  Now if you are deciding on one school over another due to your "relationship," remember relationships may change.  This is why basing your decision on your emotions can be detrimental to your choice.  College is a time to discover who you are and where you are going in life.  Weigh your options carefully; you are making a "life" decision.  Yes, your relationships are important, but so is your future.
Make sure to look at your school choice's graduation rate.  Let's not lose focus, the big picture is graduation.  Do not overlook that aspect.  Check up on the school's graduation rate.  If there is a high drop-out rate think about what that means.  You can also look into the time of jobs that graduates have obtained.  This may be the icing on the cake for you final decision.
Good luck in your college years; they will be unforgettable.