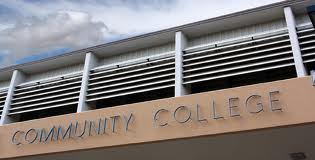 Going straight into a four year college or university is not the best choice for everyone.  Many students know they want to go to college, but are not quite sure where to start.  There are many reasons that students overlook community college from parent pressure to feeling they can "do better."  Well, there are many reasons to consider community college.  In actuality, community college is sometimes the better option for many students.  Prospective students should ask themselves why not attend community college.  Here are a handful of reasons to consider when making this choice.
Financial Reasons:  It is no secret that a four-year institution is quite pricey.  Community college costs a fraction of what a four-year college costs.  Students may not have the money and given limited financial aid and at community college they can save thousands.  Of course, your decision should not be based on money alone; there is financial assistance available out there.
Low Test Scores or Weak Grades:  Some students just do not have the GPA or test scores to get into a "decent" four-year college.  Community colleges offer open-admissions where one can build their academic skills and prove that they are a serious student.  From community college, students can then transfer to a four-year school where they will look at the college grades more than the high school record.
Work or Family Obligations:  Courses at most community colleges are offered throughout the day including nights and weekend classes.  This is much more convenient for dealing with other obligations in your life.  It is rare, not impossible, to find this kind of flexibility in four-year colleges.  Sometimes your full-time employment needs to be your school, but community colleges allow more flexibility in this part of your life also.
Career Choice:  The career that a student chooses to go into may have a say in where you go to school.  There are many certification and associate degree programs in community colleges that are not available at four-year schools.  If students are considering careers in technology and service, many do not require a four-year degree.  Students can find that specialized training directly in a community college.
Not Sure About Attending College:  There is no shame in not knowing whether you want to go or not go to college.  Sometimes students feel like they should go, but not sure why.  Community college would be a good option to test yourself in this regard.  Try out some college level courses without committing years of your life and thousands of dollars.
Whatever your position on college is, do not disregard community college.  It is a great option with much potential for every student.