Community Service Scholarships
How many times have you heard your parents or other influential people in your life tell you to give of yourself?  Help others is what you hear from them.  Seeing the importance many high schools now even require community service to graduate. Well, by doing "good" you can earn money for a college education.  Do not misunderstand, this is not the sole reason for helping in the community or those less fortunate, but it sure is an advantage to the fact that you are doing a good thing.
There are many scholarships and financial aid available to those students who volunteer and serve within their community.  If your heart is in helping others and improving the community that you live, then community services scholarships are right for you; it is a nice thank you from the community.
 Their Focus
Each scholarship has a different emphasis or looks for a specific characteristic within the realm of community service.  They truly focus on what you do in your surrounding community and how you help others. It ensures that community service isn't forgotten.
Where To Look
There are many community scholarships out there from national availability to locally sponsored ones.  The first place to look would be within the community you are helping in.  It is commonplace for hospitals, veterans groups, churches, fraternal groups or other community organizations to recognize outstanding community service and offer scholarships to deserving individuals.
The financial aid office of the school you are planning to attend should also be able to tell you if they specifically offer community service awards.
The Federal Work Study program also includes a community service component.  7% of Federal Work Study program funds must be used by schools to pay for students employed in community service jobs and schools may request additional funding for these types of jobs.
Other national organizations provide various types of community service scholarship.  Americorps, Learn and Serve America and Senior Corps are but a few organizations that offer these scholarships.
How Much Community Service Do You Need?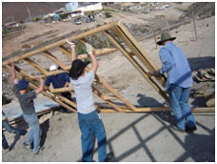 Scholarship review boards want to see students that are very active in serving the community.  If you only occasionally volunteer or have volunteered only once or twice, then you are most likely not a candidate for this type of scholarship.
Specific Community Service Scholarships
From a plethora of community service scholarships to choose from here are just a few examples to get you started.
Comcast Leaders and Achievers Scholarship Program:  The Comcast Leaders and Achievers Scholarship Program awards more than one thousand $1,000 scholarships for community service and leadership to high school seniors in communities served by Comcast. Candidates must be nominated by their high school principals and may only nominate one student.
Disabled American Veterans Youth Volunteer Scholarship Awards:  Disabled American Veterans offer several scholarships for volunteers age 21 and under who volunteer at VA Medical Centers. For more information, write to Disabled American Veterans, National Service and Legislative Headquarters, Voluntary Services Department, 807 Maine Avenue, SW, Washington, DC 20024.
The Heart of America Christopher Reeve Award:  The Heart of America Christopher Reeve Award is awarded annually to a student for extraordinary community service.  Candidates must be a senior in high school or younger when awarded.
President's Volunteer Service Award:  The President's Volunteer Service Award honors Americans who have demonstrated a significant commitment to volunteer service.
Discover Card Tribute Award: The Discover Card Tribute Award awards up to $1 million in scholarships annually to high school juniors nationwide. Discover awards up to 300 state scholarships of $2,500 and up to ten national $25,000 scholarships. These scholarships may be used for education at two and four-year colleges and trade/technical schools. Recipients are chosen on a basis of community service, special talents, leadership, and overcoming an obstacle. Candidates must also have a GPA of 2.75 or better in the 9th and 10th grades.