Working with a tutor isn't just restricted to the high school years. College coursework is known for being a challenge and regardless of what major a student chooses, there might come a time when he/she might need the assistance from someone that knows the ins and outs of a particular subject.
College professors offer office hours as a way to provide additional assistance for students that need extra help and guidance but this option isn't always available or reliable. Professors get busy, change their office hours, travel or take leave of absences. Students in need of regular help in a particular subject will typically be hard pressed to find a professor that has the time in their schedule to accommodate this type of help.
Luckily, college tutors are abundant on many campuses and often aren't hard to find. Students that have not considered turning to a tutor could be missing out on a vital resource.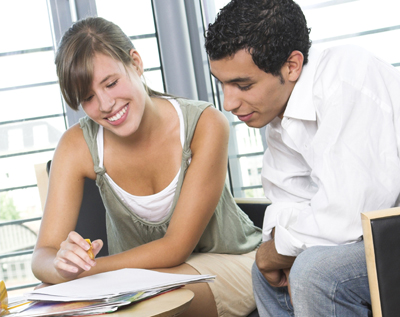 One of the best ways students learn is through one-on-one interactions. Small class sizes are ideal in learning environments but the direct attention students receive by working with a college tutor is very beneficial because all of their questions and concerns can be addressed properly, without the distractions or input of other people. This is especially helpful for individuals that tend to be shy or uncomfortable with speaking up during regular classes.
A majority of college tutors are also students themselves, currently enrolled at the same campus as those they are tutoring. This means instant access to the tutor and the ability to relate to someone that is familiar with the school, the courses and their respective degree program.
It isn't uncommon for college tutors to charge for their services. While the rates vary, they tend to be fairly affordable–after all, they know what it's like to be a starving student. If students are able to find someone offering their services for free that's great but spending a little money on tutoring is a good investment into one's education, especially if the tutor is able to produce favorable results.
It is vital that students understand the importance of the commitment they make once they decide to work with a college tutor. The tutor is providing his/her knowledge and expertise and making time out of their schedule to accommodate the tutee. Once dates and times have been confirmed, tutees should stick to them. If a tutoring session needs to be cancelled or rescheduled, don't wait until the last minute to notify the tutor. The working relationship between tutor and tutee has to be one of mutual respect and professionalism.
Speaking of relationships, tutoring sessions are not for the purpose of trying to "hook up" with the tutor and vice-versa. While it isn't uncommon for a student to be attracted to his/her tutor, leave those feelings at the door. Maintain a professional relationship and focus on the task at hand. After the tutoring sessions have ended is when a more casual relationship and interaction can then take place.