By now, virtually all of us know that there is no such thing as "perfect." Even the most prestigious colleges and universities don't fall under this category. The challenge for students getting ready to enter this stage in their lives, is to understand both a school's high points as well as low points. Different factors and preferences all add up to what makes a campus ideal for a student.
College tours are strongly encouraged because it's much easier for students to envision what they could possibly expect from student life by seeing everything with their own eyes. However, such a visit isn't just for the purpose of seeing what a school has to offer–it's a chance for potential students (and their families) to evaluate everything. Students should want to apply to schools that have more pluses than minuses but also understand what living with those minuses mean.
The next time you plan on scheduling a college tour, take note of the following things to be on the lookout for:
Distance From Home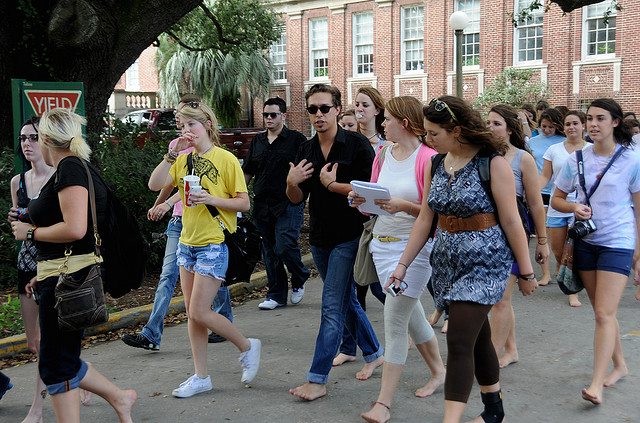 Plan on applying to colleges far from home? Be careful what you wish for. Think about what it will take to get you from home to campus and vice-versa. The best way to experience this is to obviously attend a college tour using the travel method you would ideally take if you were an actively enrolled student.
That means if flying is going to be your main choice of travel, book your flight and keep the airfare prices in mind–those will likely be the figures you'll have to budget for when planning to go back home during school breaks and/or in between semesters.
Think a road trip would be an easier option? Get in your car and drive to the college tour to find out. Keep tabs on the distance, the gas prices and how you feel once you've arrived. Think of it as a literal "test drive."
Look for the Imperfections
It's natural for colleges and universities to present a clean and polished image of themselves and their facilities during college tours. However, students and their families need to know that clean and polished isn't always going to be the case once they get onto campus. While touring pristine dorm rooms and residence halls is enough to impress most people, don't buy into the hype too soon. If possible, step away from the tour and find out if it's possible to see other parts of the facilities that aren't on the tour schedule.
Venture Off-Campus
Seeing the ins and outs of a college campus, dorms and classrooms is all well and good but there are other destinations students will find themselves in. For that reason, students and their families should head off-campus after the tour and find out just what kind of community and other surroundings there are. Do the neighborhoods look safe or questionable? Is the area more of a tight-knit community or is it filled with the hustle and bustle of businesses and working professionals?