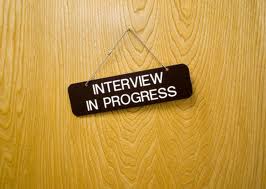 Here comes your college application due dates.  You are making sure that you are dotting all your i's and crossing all your t's.  The admission process can be a lengthy and somewhat difficult one if you let it be.  Staying on top of all the m and having proof readers ready to go over everything you produce is a great way to make the process a lot less complicated.
As part of the college admissions process some schools may require that you attend an interview.  The interview may not be the most weighted part of your application, but it is still very important to make sure that you make a good impression.  The interview gives the college recruiters a snap shot of who you are and what you can bring to the school.  Making a bad impression can hurt your chances of getting accepted.
The following are a few mistakes that you can make that will leave a negative impression on the interviewer.  Try to avoid them in order to have a more positive interaction at your interview.
Tardiness:  Do not be late.  Everyone has busy schedules especially during application time.  Some people may be taking time off work or have to travel a distance to the school in order to interview you.  If you are late, it disrupts everyone's schedule, showing irresponsibility on your part.
Underdressing:  Your best bet is to arrive in "business casual" attire.  You want to look neat and put-together, showing the interviewer that you actually care about this interview.
Avoid single word answers:  This interview is a way for the college representatives to get to know you.  By answering yes or no or even grunting, you are not impressing anyone.  You are demonstrating that you are not ready for the intellectual life of college.
Do not be fake:  Be yourself.  You want to sound like you not like an automaton.  It is good to rehearse some questions, but try not to sound as if rehearsed.  May be a little difficult, but again be yourself.
Do not chew gum:  Some things should go without saying, but stating the obvious sometimes helps.  Gum, it is distracting and annoying, enough said.
Do not come unprepared:  Research the college that you are applying to well.  This way you will not ask questions that by doing a little research can be answered.  In fact, it can help you ask intelligent questions specifically about the school and its various programs.
Do not be rude:  Hey, good manners are always a plus.  Shake hands, good eye contact and use the interviewer's name.  And at the end, make sure to say thank you.  Sending a thank you note after the fact also can work in your favor.
Most of these "mistakes" you can come up with using common sense, but it is still good to be aware of them and focus your attention on avoiding them.  Good luck and happy interviewing.