Looking for College Grants Online?
The Internet has made searching for financial aid even more convenient for college bound students. Because free money is good money, students will especially want to focus on doing online searches for funds in the form of college grants.  Not all grants are the same and only through careful searching and research can students find the right kinds to apply to.  Since first time college students are new to many concepts, the following information will easily break down what grants are and how to search for them on the Internet.
What are College Grants?
In a nutshell, college grants serve as a form of financial aid, which assists students with affording college related costs and expenses. Different from student loans, grants do not have to be paid back to a lender. So a student lucky enough to receive such funds will literally have free money to use for school tuition and fees, living expenses, books and other school supplies.
Avoid Broad Online Searches When Searching for Grants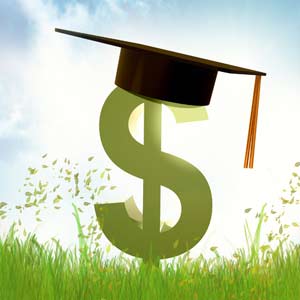 Since there is so much information about grants for college on the Internet, doing an online search tends to produce too many results to browse through. To avoid search results that are not relevant to what you want, it is a good idea to avoid using keywords that are too broad. For example, instead of doing a search for "college grants," try different variations or using information that relates to you specifically, such as "Pell Grant application" or "grants for women." Such searches will give you websites that are more focused on specific types of grants instead of everything under the sun that has to do with this subject.
It's All About the .Org, .Edu and .Gov in the Grant Search
These days when people do online searches, the majority of the websites they come across are .coms. However, when it comes to your search for college grants, keep an eye out for sites that end in .org, .edu and .gov. The content on sites with these types of domain names tends to have more credibility because they are operated by organizations that are committed to producing credible and well researched information. While these sites aren't necessarily better than .coms, they are excellent resources to turn to, especially .edu and .gov, which are run by academic institutions and organizations, as well as the government.
Beware of College Grant Scams
Unfortunately, even in the world of financial aid, there are shady individuals and operations. Although the Internet is full of helpful websites that give students access to grants for college and related information, some of these sites are completely bogus. Their goal is to try and get money from students and their families or steal personal and financial information.
The people in charge of such sites have the know-how to make the content and appearance of their websites look legitimate, which can make telling the difference between a trusted site and a fake one difficult. However, there are some signs that students and their parents should be on the lookout for when it comes to searching online for financial aid for college. The first is to avoid any college grant site that makes statements such as, "Secure a scholarship or get your money back!" "Limited time offer" or claims that you won't be able to get the scholarships they offer anyplace else. The truth is that no grant or scholarship is guaranteed. Additionally, you should never have to pay any amount in order to apply for financial aid. There are more than enough sites offering the same information and access to grants free of charge so it makes no sense to send your hard earned dollars to someone who doesn't have your best interest at heart.
Another red flag to be wary of is a website that requires you to enter any financial and/or personal information, such as a credit/debit card number, social security number or bank account number. This is a common scam that gives the receiver the ability to hack into your bank account and steal your funds and information.
Additionally, delete any emails or offers you may receive, dealing with a contest that you've qualified for that promises to give you grant money or a scholarship. Such contests are more than likely fake and yet another way to gain access to sensitive information.
Parental Supervision – Grants for College
The concept of parental supervision for browsing the Internet is not just limited to young children. Because of the abundance of information and potential scams, it is ideal for parents to sit down with their child and search for online college grants together. Since affording college is going to be a combination of both the parents' and the student's efforts, it only makes sense to research this subject together to ensure that everyone is on the same page.
Turn to Offline Methods for College Grants
The Internet is a great tool for finding college grants but the search effort can also be continued offline as well. If you have any questions or concerns about anything you've found online, bookmark the site and write down the contact information in case you want to speak to someone directly. Print out the applications, instructions and website information if needed, which you can go over with your family and/or an academic advisor to make sure that each grant you're researching is the right fit for you.
Don't Forget the FAFSA to Accept Grants for College
The Free Application for Federal Student Aid aka the "FAFSA" is one of the first things a student should research online. Before trying to tackle financial aid, college grants and scholarships, it helps to know how much money you'll actually need to attend school. With the FAFSA completed, your family will have access to that very information. From there you can go about looking for grants online to find out what amounts they are awarded in and which ones you're a good candidate for. Remember, you can apply to as many grants and scholarships as you want but it's best to focus on the ones that you meet the eligibility requirements for, which will increase your odds of being awarded the funds.