While no two students' experiences are exactly the same when it comes to college, there are some elements that tend to be commonly shared, such as participating in clubs, school activities and/or college sports. Being a part of a fraternity or sorority is one experience that many students fondly recall years after graduation. Although it is not mandatory to join such an organization, fraternities and sororities do have their pros and cons. If you're trying to decide whether or not you should make the effort to become a part of such a group, the following information should be taken into consideration to help you with your final decision.
Great Way to Make Friends
This is perhaps the most obvious benefit to joining a fraternity or sorority. Members don't refer to each other as "brothers" and "sisters" for nothing. Over time, the friendships created through membership in these organizations often grow into strong bonds that last well after graduation. Students that are having a hard time "fitting in" or finding other peers they can relate to, could find a fraternity or sorority as the perfect solution.
Give Back to the Community
College fraternities and sororities commit themselves to public service and are often responsible for putting on events and activities that engage not just their fellow students but the community as a whole. Students hoping to make a difference, help others and bring attention to social issues will find being a part of a fraternity or sorority a very rewarding and fulfilling experience.
Networking Connections
Alumni are among the strongest connections people in fraternities and sororities can have because they are actively employed in their respective fields. Knowing such individuals gives students in fraternities and sororities an insider who can offer advice, guidance and even recommendations for future employment upon graduation. Many well known public figures, including celebrities, have been members of notable fraternities and sororities.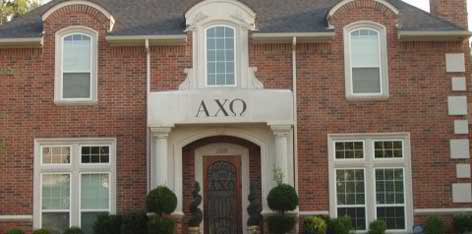 Housing Accommodations
Being accepted into a fraternity or sorority also means gaining access to housing and accommodations during your college years. Instead of worrying about living in the dorms or affording an apartment on or off campus, members will be able to share a room with their fellow brothers or sisters. Having a place to call home is one less thing students will have to worry about in this situation.
Pledging
Not just anyone can be accepted into these organizations. Some fraternities and sororities have very involved processes when it comes to pledging that may end up taking a lot of time, energy and commitment. Some of the tasks required may also be inconvenient or embarrassing in nature to perform. While these groups often get a bad rap for hazing, many fraternities and sororities do not participate in such practices.
Big Commitment
If you're the type to get overwhelmed easily, joining this kind of group may not be a good fit. Fraternities and sororities require a lot of time and dedication to participating in their events, assisting other members and coordinating/planning activities. There are also membership fees/dues that may be required, which also means another financial obligation in addition to paying for school.