A college application is one of the most important documents a student will ever have to complete. It goes without saying that this first step on the path towards higher education should be taken very seriously. Unfortunately, certain myths lead to misinformation that could potentially cause a student to approach the application process incorrectly.
As with most popular subjects, myths are common and even apply to college related matters. In the case of an application, it is in any student's best interest to make sure they are aware of the reality and know how to tell the difference between what to believe and what to debunk.
College Application Myth #1: It's Better to Submit to Colleges First, Then Do the Tour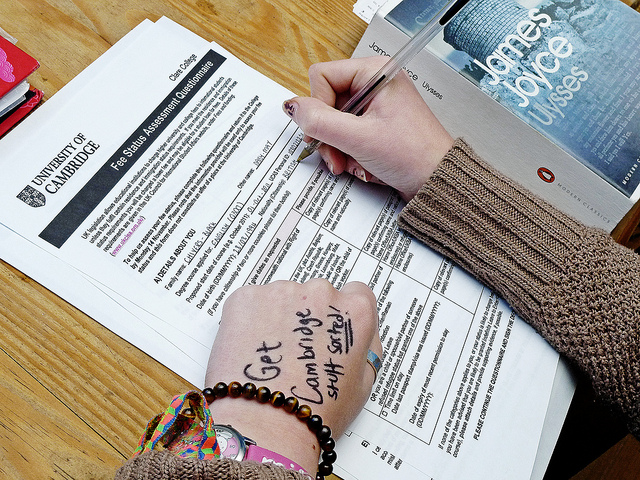 There is no rule that says high school seniors and graduates can't participate in a college tour before submitting an application. It's actually better to do a college tour first.
The only way to know whether or not a college or university would be a good fit would be to see it in person. This is especially helpful for students with a long list of schools they're considering.
It's a good idea for high school seniors to schedule college tours before graduation in order to narrow down their choices. After all is said and done, it'll be easier to pinpoint exactly which applications to fill out for which schools.
College Application Myth #2: It's Okay to Copy & Paste Info to Save Time Filling Out Several Applications
Being able to fill out college applications online is convenient. However, students shouldn't allow technology to make them lazy. Filling out more than one application can be overwhelming but that is why it's better to tackle one application at a time. That means not trying to fill out all of them on the same day–this only increases the odds of making a mistake. Instead dedicate 1-2 days for each one.  Copying and pasting answers is tempting but should only be limited to the fields that are basic, such as name, address, birthday, phone number, etc.
College Application Myth #3: There's No Difference Between "Early Decision" and "Early Action"
Actually…there is. The main factor the two have in common is that each one allows students to submit their applications early, which means receiving a decision early, too. But the circumstances of each type of accelerated admissions program is very different.
Pursuing an early decision means that should a student get accepted, they are bound to attend that school. Students are limited to submitting to only one school for an early decision but can also submit to as many other colleges as they want that fall under the normal admissions process. However, being accepted through an early decision means being required to withdraw all other pending applications to other colleges.
Like the early decision program, early action programs mean letting students know at an earlier date if they've been accepted or not but, if accepted, students won't be forced to commit and can still apply to other schools.