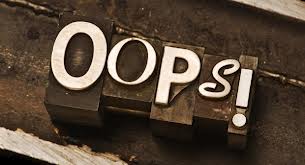 It is college application time.  What to do, when to do it and how to do it are all very important questions to ask yourself.  It is about taking your time and giving it your all.  Between your senior year in high school, your classwork, extracurricular activities and everything else, you have to concentrate and fill out those college applications very carefully.
It is imperative that you avoid most if not all of those common mistakes associated with college applications.  The following are a few of those so-called commonly made mistakes to try and avoid.
Missing Deadlines:  This is the number one no-no to avoid.  The admissions process contains many deadlines.  Missing even one can mean a rejection letter, loss of financial aid or an application straight to the recycling pile.  Some of those deadlines to keep an eye out for are:
Application deadlines
Early Action and Early Decision Deadlines
Financial aid deadlines (Federal, State and other)
Scholarship deadlines
These deadlines can vary from school to school, so due your research and make sure you know all the deadlines that are applicable to you.
Using the Wrong College Name:   I know it sounds hard to believe, but many students are copying and pasting many things all over applications and using the wrong college name is more common than you may think.  Students write a single admissions essay changing the school name.  Make sure to proof read your application from beginning to end and assure yourself that the school name is the correct one everywhere on the application.  The admissions officer reading your application at USC will not be impressed if you state that the school for you is ASU.
Asking for Letters of Recommendation at the Last Minute:  Sometimes students feel that they may be bothering their teachers for letters of recommendation or think it is not that important.  Wrong!  The letters may not be weighed as heavily as your grades or test scores, but they are a very important part of the application process.  You do not want to be late in turning them in and you want time to talk to your teachers so they know what to write.  You should talk to your teachers ahead of time giving them as much information as possible about the schools that you are planning to attend and at the same time giving them the chance to get to know you.  This will allow the teacher to write a well thought out letter matching you strengths with specific college programs.  Letters written at the last minute tend to be generic in nature and not as useful.
Student Not Parent is Applying:  During the whole admissions process, remember it is you, the student, who is being admitted not your parents.  You need to build a relationship with the college and manage your own affairs when it comes to college.  Colleges like to see students who are self-sufficient during the application process.  Make those connections with the school as you complete the application.
Be careful in every step you take during the admissions process.  Small mistakes can be costly.  Good luck in you educational endeavors.