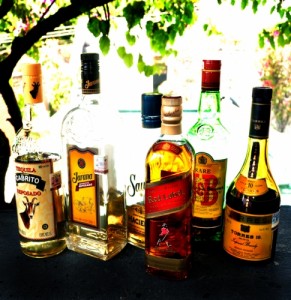 Many college students find themselves lost in partying. A recent study showed that male college students  on average drink approximately 7 alcoholic beverages a week. There are many that take it far beyond that. Alcoholism among the youth is becoming a common thing. This article is here to show some of the serious problems that alcoholism can cause. I interviewed a 20 year old attending college to try to get some incite in how alcohol has affected his life in college and beyond.
BeginCollege.com(BC): How were your grades before you went off to college?
Anonymous: I had a 4.0
(BC): Did you continue to receive a 4.0 when you went off to college?
Anonymous: No, I actually did very poorly. At first I was not doing so bad but,  after a while I got to know some people and I started to party with them. In addition to partying with them, we drank almost every day. That is when my grades dropped and I was put on academic probation.
(BC): When would you start drinking?
Anonymous: Normally, we started right after class in one of our dorms.
(BC): When did you do your homework?
Anonymous: Well, I tried to do it after class while we drank. I would defiantly miss a lot of assignments, but it was the quality of my work that really made my grades drop I think.
(BC): How are your friends doing in college?
Anonymous: They were pretty much in the same boat as me.  One of them dropped out.
(BC): Would you say you are addicted to alcohol?
Anonymous: I don't feel like I am addicted more than it like a bad habit. I have had to stop drinking as much during the week so I can get my schoolwork done.
(BC): Were you able to get your grades up by the end of the semester?
Anonymous:I got them up enough to be taken off academic probation, but there not great.
(BC): Thank you for allowing us to get some incite of college drinking.
There are many others that share the same problem as "Anonymous." If you feel like you are slipping in college because of drinking, talk to a school counselor or get help from an outside source. You don't wanna become just another bad statistic.
Tell us what you think in the comments below!
Article written by Gennady Ivanchenko who is a current college student majoring in Business.