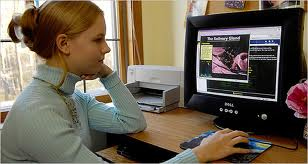 Sometimes going to college in the traditional manner is not always feasible or not at all possible for various reasons.  At the same accord you want to receive that higher education degree to better your chances with future job or career options.  If you are able to set aside the time, online schooling may be the right option for.
In order to succeed in online schooling there are a few habits you must develop and nurture.  Many of these habits are the same as in traditional school, making learning and studying more efficient.  Yet, a couple of them are more important when it comes to taking classes online.
Be Prepared:  It is important to know the basics of the classes you are planning to take.  Sometimes it has been a while since you have taken any classes so brush up on that basic math, English or other skills you will be using.  You may be working on group projects or other assignments in which you will need those concepts under your belt before you begin.
Stay Organized:  In traditional school your organization skills should include a lot of filing of papers, keeping hard copies in order and everything in a certain place.  Now online you will probably be doing a lot of your work on a word processing program, so make sure you save your notes and assignments in certain folders.  You may also want to have a hard copy and/or another digital copy saved just for a back-up.
Time Management:  In most cases you can attend your online lecture at any time, so it is imperative that you do not put them off until the last minutes.  Schedule your time accordingly; having a "regular" time to watch your lectures and do your homework will help in the long run.  Having a set routing will allow you to remember and keep you productive when it comes to your schooling.
Get to Know your Professors and Classmates:  It is much more difficult online to establish relationships with those who can assist you in your education.  Doing so will not only make school a more enriching experience, but can help make important connections in future endeavors especially in the job arena.  To do this you must engage yourself with the class material by asking questions.  It may seem a tad intimidating at first, but professors enjoy helping and discussing their class.  To get to know your fellow students you may want to set up a video chat study group or use bulletin boards or email to communicate.  This way you can help each other with homework and/or understanding class material.
Job Prospects:  Doing an internship in the area you are studying would be most beneficial to you since online schooling is not a hands-on way of learning.  Interning would help you receive relevant work experience and in some cases help you understand the class material better.