For some people, cooking is a hobby. For others, it is a passion. If strong enough, a person that wants to make cooking a part of their daily life, could turn this passion into a rewarding career. There are plenty of culinary schools to choose from and earning a degree from any of them is a great way to get into the food service industry professionally. Of course studying to become a chef means more than just learning techniques and how to follow recipes.
What Type of School Should I Attend?
The most common answer is a culinary school. However, this isn't the only option. In addition to culinary schools, there are trade schools and traditional colleges and universities that offer a culinary arts degree program. In general, it is best to receive your training and education from an accredited, two-year or four-year school because upon graduation, you will be recognized worldwide as being accredited as a chef.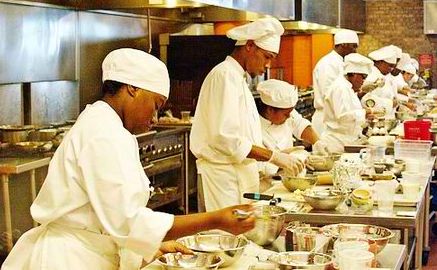 Attending a trade school, on the other hand, will not allow you to be recognized as a chef until you actually get hired into that position and/or only gives you accreditation in the state where you received your training. Going through a trade school takes less time and is more affordable, compared to traditional college and universities, but typically does not come with an apprenticeship portion.
It is important that the Culinary Arts degree program you choose includes a portion where you receive hands-on training in a kitchen, in combination with classroom instruction. Those with apprenticeship programs are the most beneficial because the onsite training can be added to your resume, making you a much stronger candidate once it's time to hit the job market.
What Types of Degrees Are Available?
As with most degree programs, you can choose to earn an Associate's, Bachelor's or Master's degree in Culinary Arts. Below are the general aspects that each degree level covers, as well as which job positions can be obtained upon graduation:
Associate's: Nutrition, food preparation, kitchen procedures, knife skills, basic cooking techniques, presentation, baked goods, sauces, broths and stocks, brunch/breakfast cooking, fish and meats, desserts.
Most cooks use their Associate's degree to find employment as line cooks, food/beverage mangers, sous chefs and kitchen supervisors.
Bachelor's: Management and operation training in the areas of baking and pastry arts, food and beverages, hospitality, menu planning, personnel management, cost control and purchasing, wine and food pairings, restaurant legalities and food history.
Those with Bachelor's degrees typically go on to work as kitchen managers, assistant chefs or executive chef assistants.
Master's: Students are able to pursue this degree level after determining which niche/field of the food service industry they want to specialize in. Common subjects of study could include quality improvement, nutrition and food science, human resource management and/or cost control in the hospitality industry.
Chefs with a Master's degree have the advanced skills and training to find work as a restaurant's head chef, pastry chef or restaurant manager, among other job titles.