Athletic Scholarships
There are many scholarships out there for students to take full advantage of to help pay for a college education.  One scholarship in particular is the athletic scholarship.  This scholarship in itself has caused much controversy due to the fact that some believe that athletics alone should not be the base of a college scholarship.  Students should know that their athletic talent and performance is a key influence but this factor alone will not get them this scholarship.
NCAA Guidelines
The National Collegiate Athletic Association (NCAA) is divided into three divisions (Division I, Division II, and Division III).  The NCAA offers scholarships to Division I and II schools.  (FYI, Division III schools do not give athletic scholarships)
There are NCAA guidelines in order to be eligible for an athletic scholarship.  Such as those to get into a college, you must take core courses.  The GPA's in the core classes, the SAT score and the score for the ACT are all used to deem a student eligible or ineligible for athletic scholarships.  This does not guarantee a scholarship, but having an unacceptable combination of those will make it impossible to qualify.
The combination of these qualifying factors make it important to know what classes you take beginning in the 9th grade and continue to choose carefully throughout your high school years.  You must have enough core classes and the GPA just to be eligible to apply.
Student-athletes should also register with the NCAA Clearinghouse after their junior year in high school.  A final transcript is sent to them from the high school after your senior year.  This is a must if you are offered a scholarship, so follow up on that.
Where To Get Advice
As stated it is important to take to correct number of core classes.  Many of them will be college prep level, so it will be an advantage to speak with a school counselor throughout high school, not only in your senior year.  If you wait, it may be too late to make up classes you may have overlooked.
Also consider looking up NCAA reading material or their website for more information.
Individual colleges or universities may also offer good suggestions on what a student should accomplish along with their athletic endeavors.   There are also advisors and organizations on campuses that can help with questions students and parents may have.
Commitment To Academics
The NCAA has developed a system that tracks a student's progress for each academic term.  This allows for the school to intercede and help student-athletes are academically challenged before it is too late. The NCAA's ultimate goal is for their student-athletes to graduate giving them more choices in life.
Other Athletic Scholarships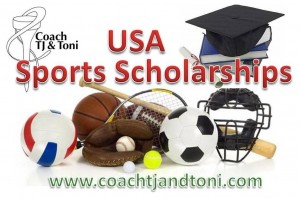 The NCAA is not the only organization that offers athletic scholarships, there are many others.  Each organization or private athletic scholarship provider has their own set of requirements.  It is important to look into each one and follow the guidelines.
It is never too early to start thinking about how to pay for college.  So start looking now you high school freshmen, sophomores and juniors.  And you seniors, don't stop looking.  There are many opportunities out there.