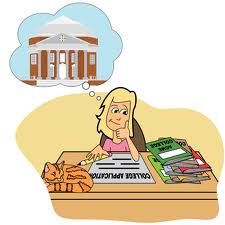 This is the time when all college bound high school seniors are filling out their college applications.  Each step of the college admissions process is very important, but the most important is making sure those applications are completed.  Your best chance at getting into a college is offering one great application "showing" who you are as a student and a person.  This is not an easy thing to do, but the following suggestions may assist you in doing just that.
As you complete your application, keep in mind who your audience is.  You want to make that application stand out.  College admissions officers are reading hundreds of applications, so you have to offer in your application something different than the others.  This will help you stand out and help those admission officers remember you.  Use your words to describe details, use personal anecdotes, and be yourself.
Show who you really are.  Do not try to pump out every application like you are in an assembly line.  You need to put your best self forward and think about what you want those admission officers to really know about you.  You want to stand out, so make sure your true personality comes out in your essays and use words to describe yourself in a positive light.  Write about what is important, interesting and unique to you compared to other students.
Neatness counts!  If you even want to be considered, make sure that the appearance of your application is acceptable.  That application should be perfect or near perfect in terms of neatness, spelling, grammar, punctuation and all else.  Be certain to get proofreaders that can give you positive and constructive feedback.  If you turn in a sloppy application you are telling those admission officers that you are really not serious about attending college.
Follow all directions given.  Read and reread all instructions.  You want to clearly understand what is expected of you.  Write down, highlight or underline any instruction that you want to remember to do.  By not following a simple instruction, those admissions officers will notice right away and possibly not even consider your application for further review.
Make copies of everything you send.  Do not submit your application without making a copy of everything you are sending.  There are many ways that your application or parts of your application, can get lost.  Having a copy of everything will facilitate resending tenfold.  You do not want to start from the beginning all over again.
All deadlines should be met.  Take the time to find out if your application made it to its destination on time.  It is your responsibility to make sure of this.  This includes every part of your application including any supplements such as:  transcripts, test scores, teacher and/or counselor recommendations and any other material.
This can be a stressful process, but making sure you have everything in place will ease that stress.  Good luck all you future college students.