You are smart and out-going, you know you will be a successful college student, but the hardest part is actually getting into the college of your choice.  Your college application is the key to getting into the right school.  All in all college applications are not difficult to complete, but one must be careful and avoid common mistakes within the whole process.
Missing Deadlines:  The college admission process has various deadlines.  Missing a deadline can have dire consequences when it comes to being accepted into a school or causing financial aid troubles.  There are many deadlines that you must be aware of.  Each school you apply to, institutional financial aid, federal financial aid, state financial aid, and scholarships are but a few items within the process that have different deadlines.
Using Wrong School Name On Essay:  You are under pressure and filling out multiple applications, so understandably, you use the same or similar essay for each changing the school's name.   Make sure that the college's name matches the college you are applying to.  Sounds like something simple, but a slight mistake like that will not impress the admissions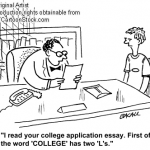 officers and probably cost you admittance to that school. Misspellings and grammatical errors will also be frowned upon.  Reread your essays carefully and it is a good idea to have someone else proofread it as well.
Applying for Early Decision When it is Not the Right Choice for you:  When applying for Early Decision, usually it is accompanied with signing a contract stating that you are apply just to one college early.  If accepted you are obliged to attend, so if it is not the school you want to attend, you should not apply for Early Decision.  It may improve your chances of getting into that particular school, but it also restricts your options.
Asking for Letters of Recommendation Late:  If you ask for a letter of recommendation at the last minute, usually those letters are rushed and not as thorough.  It is important that you give your teachers time and as much information as possible about you and the school you are applying to.  Teachers can cater their recommendations using strengths to the specific program you are a applying to.  Last minute letters will lack the quality they deserve.
Too Much Parent Involvement:  It is great that your parents want to be involved, but college is admitting you the student and not your parents.  The college needs to "know" you and want you want for the future and why you chose to go to that particular college.  School admission officers want to see that students are self-sufficient and able to articulate their wants and needs.  Parents can be involved, but make sure your voice is heard.
Do not take this process lightly; give it the time it deserves.  Start the application process early.  Do not wait until after the summer to get started.  The more time and energy you put into it the more your enthusiasm and student professionalism will come through.  Good luck!