Future college students will have a lot of new territory to encounter. Learning how to live with a roommate is one of them. In most cases, college freshmen and sophomores will find themselves living in dorms on campus. Many people have often heard of the horror stories that come with having a roommate in college, especially when it comes to dorm living.
In an effort to improve the odds of having a positive experience in this area, many colleges and universities are adopting new policies that allow students to choose their own roommates. A few of the most commonly used practices are listed below that are helping new students make the transition.
Thanks to the popularity of social networking sites, colleges are learning how to take advantage of this resource to provide assistance to its students. In terms of finding a roommate, some schools offer students the opportunity to add their name and email address to a database or list of incoming freshmen planning on moving into the dorms. After being added, those students will then have access to the list or database, allowing them to contact individuals they are interested in rooming with. This can be done via email or by searching social networking sites like Facebook and Twitter to do more research about a particular individual. Using this method is a great way for students to find out more about potential roommates well in advance of moving in together. Additionally, it also gives the two individuals the opportunity to communicate with one another and establish a friendship.
Another method for helping people find the ideal roommate requires having incoming students fill out a housing survey,which is intended to provide more insight into an individual's lifestyle and living preferences. Using this information, a college's housing staff can categorize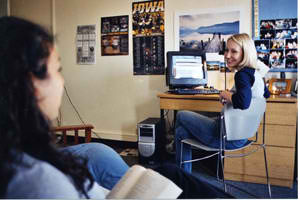 the students according to shared interests. Living with someone who has common interests usually improves the odds of having a favorable roommate experience.
Other colleges and universities expand on this method by having students create housing profiles online. After putting up their profile through the school's designated site, a list of the top potential matches will be displayed for the student to browse through. Once a student comes across a profile that appears to match theirs, they can then contact that individual directly. If both parties agree to move in together, they are then required to contact the school's housing staff to make it official.
If getting along with your roommate and having some say in who you get to live with is a make or break thing for you, then you'll want to consider looking into campuses that offer such alternatives. While there is no complete list of such schools currently available, it is possible to contact the housing departments of the schools you're interested in applying to in order to find out if such an option is possible. San Francisco State University, the University of Utah, Western New England College and Case Western Reserve University are among the campuses known for allowing students to choose their own roommates.