We are always making decisions which affect our futures.  One very important decision is made while we are still in high school.  Should I or should I not go to college?
It is difficult to see where you'll be a year or two from now, much less in ten or twenty years down the road.  Questions that you must ask yourself are, where do you expect to be, and what do you want out of life?  For help answering these questions and many other important ones, attending college right after high school may provide just that.
There are many reasons for attending college from getting a better paying job to giving you more options in life.  College is a time to find yourself and explore various avenues that you would have not afforded yourself without this experience.
How Do You Decide
You may feel that signing on to a 4 year may be too much of a commitment after just finishing the last 4 year one.   There are 2 year colleges where you can take the time and test yourself and see what you are able to achieve.  While attending a community college you can take advantage of their academic advisors, professors, counselors and other organizations to help decide what direction is best for you.
Which is the Best College For You
During high school you can visit your local schools or take short road trips to schools that may interest you in order to find out a little more about them.  Choosing a college depends on various factors.  You may have certain interests or career goals that will influence the college that best suits your needs.  You may also have a major in mind that you have researched and that some colleges may excel in that particular field, in which case that may be your college of choice.
Other influences may be your preferences such as whether you would like the intimacy of smaller class sizes or a college that is church affiliated.  You may rather a large university with abundant activity or a school in a large city.  By research and visits you can find out a lot about different educational institutions.
What Should You Major In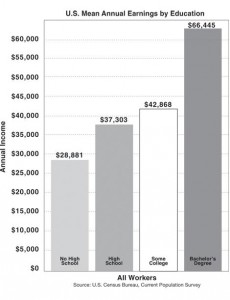 Fortunately, you do not need to know what you want to major in to get into a college or university.  Take classes that sound interesting and you may find out that you enjoy a certain few.  This will help in your future decision of which major to choose before graduating.  Of course, there are also many organizations and advisors on campus that can aid you in that decision too.
What Does Research Show
A college education may not be for everyone, but research does show that those even with some college education earn more than those without.  This alone may be a deciding influence to attend college.
A college education is a lifetime investment that will not guarantee a job but will definitely facilitate the job hunting and open opportunities that you would not have had without one.