Throughout our lives we learn many lessons.  Starting college it is important that one of these life lessons be learned and applied.  This lesson is that permanent, long lasting behavior change takes place over time and is the result of conscious efforts and decisions made consistently and continually.
How can this be applied in college?  In a student's study habits and skills, of course.  In high school students studied a certain amount and in certain ways.  These study skills must be reexamined and developed to fit a more sophisticated and difficult academic arena.  Changing your study habits does not happen overnight but by consciously making the effort in changing some of the way of doing things.
There are many strategies or habits that you can develop and use to improve your study skills.  Here are but a few suggestions students can try, but each individual needs to find what best works for them.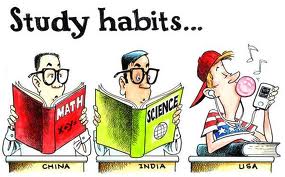 Choose a good study environment.  You need to find a place to study that is quiet and has little distractions.  Many enjoyed studying in their rooms in high school, but in college constant distractions and noise will deter your thinking and studying.  The library is a great place even though many dislike it for one reason or another.  While studying, information, technology and resources are readily available in the library.  Plus it is a quiet place which will allow students to focus and get more studying done in less time.
Develop good time management skills.  Manage your time efficiently.  Buy yourself a calendar and write down all deadlines for assignments and other appointments.  Even penciling in study time will help keep you on task and on time.
Learn to prioritize.  Your end goal is to graduate.  You will have many distractions trying to get in the way of this happening such as too much socializing, stress or other small mishaps.  Prioritize everything and re-prioritize if need be.
Go to class.  Your grade is not based on attendance, but by attending you will get the information you need to do well.  Depending on a classmate to take notes for you may cause difficulty in keeping up and/or understanding everything.
Read your assigned pages.  Do not treat reading assignments as "suggested" readings.  Material that your professor did not go over in class but was in your assigned readings may be included on your tests.  It is important to keep up with all class assignments, including the readings.  Also, do not cram all the reading the day before the test.  Keep up with the assignments to avoid the last minute studying and pulling all-nighters.
Get your rest.  There is a lot of work to keep up with and sometimes not enough time in the day.  Make sure to get your sleep and take your breaks.  Your mind needs the rest also.
Your college years can be a great time to grow and learn many things within and outside the academic spectrum.  There is time for everything if you prioritize and manage that time efficiently.  Good luck to you!