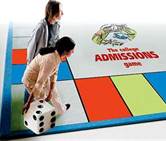 There is no question about it, students must prepare for admission to college while still in high school.  There are many factors that colleges evaluate when choosing students for their campuses.   Some of these factors are weighed in a little differently.  Colleges look at applicants' grades, particularly in college preparatory courses, but also on their overall grade point average and high school class ranking.  If students are considering college, they need to start in high school by taking college preparatory courses and advanced placement courses.  Colleges also look at the students' Scholastic Aptitude Test (SAT) and their score from the American College Test (ACT).
Scholastic Aptitude Test:  Before even taking the SAT, high school juniors should take the PSAT (Preliminary Scholastic Achievement Test) which will give them eligibility for the Merit Scholarship award.  It also provides experience in test taking when it is time to take the SAT they will be at least familiar with the test format.
When it comes to the SAT, it is divided into three parts:  mathematics, critical reading, and writing.  Scores in each section range from 200 to 800.  The average scores in 2012 were 514 in mathematics, 496 critical reading and 488 in writing.  Admission requirements vary by the type of university or college, but overall a score below 1100 is considered too low for most colleges.
American College Test: The ACT covers four areas:  English, mathematics, reading and science, with an optional essay test.  The scores in each area range from 1 (lowest) to 36 (highest).  Colleges usually use a composite score when evaluating students.  In 2012 the average ACT composite score was 21.1.
Grade Point Average:  GPA is looked at pretty carefully, where most colleges require a GPA of at least 3.0.  This is set at the minimum GPA, but at times students are accepted with a slightly lower GPA if their test scores are outstanding.  Again, colleges also tend to look at the GPA of students' college prep classes more closely.
Other Considerations:  Students' grades in college prep courses, test scores on the SAT and/or ACT, and grade point averages are weighed in a bit more when it comes to college admissions.  Colleges also look at other things that should not be overlooked.  They take into account students' extracurricular activities, written work (personal essays), interviews and letters of recommendations.  Any of these can increase a student's chance when it comes to borderline decisions.
Do not discount high school as a college starting point.  Do your best and things tend fall into place.  Good luck.