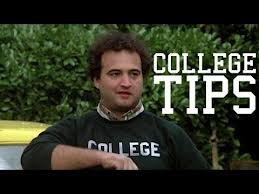 Starting college is a very exciting time for any young person.  Students will be experiencing many new and exhilarating things such as meeting new people and filling their minds with a lot of academic and social knowledge.  It is definitely a very important time in any person's life.  During this time students will get a lot of different advice from many sources.  It is up to them what to follow and what not to pay attention to.  The following are a few words of wisdom gathered from various past students.
Keep Focused:  A student's top priority should always be their studies.  This does not mean you should not have a social life, but keep your eyes on the prize your graduation.  Keep things balanced.
Eat Right:  Students tend to start skipping meals or eating a lot of fast food or foods that are processed and full of starch.  Try to eat right.  Eat balanced meals to help you stay healthy and focused on your studies.  It will also help keep your energy levels up.
Social Aspect:  There are many activities on and off campus that are free.  Take advantage of them and get to know different people.  This is a great way to network and make good connections.
Tutors:  Many colleges have tutoring centers with very good tutors to help in all educational aspects.  These are resources that all students should look into when they need that extra assistance or have any questions.
Go to Class:  Students may not be graded on attendance, but that does not give them a get out of class for free pass.  It is extremely important to attend class and take notes that should be reviewed at home.  Taking notes will help you process the information from class and compare it to that which is in the assigned readings.
Get Some Sleep:  Tendency to study all night or party increases in college.  It is important to get in at least 6 hours of sleep per night.  Some students need more and some less.  If a student gets sleep deprived, it will make it that much more difficult to go through college.
Living Accommodations:  If you can actually live at home, you might want to consider that.  Campus living is very expensive and can be extremely distracting.  It may not have been a choice you considered, but it can definitely help financially and academically.
These are but a few helpful hints for a smoother college transition.  Good luck and remember keep focused.