Public relations sounds like a fascinating and exciting job but not many people actually know what a public relations career is all about. If you think this job position is your calling, below are the basics you'll need to know to make the right decision.
What is Public Relations?
When one thinks of public relations, celebrities and other famous individuals usually are the first thing that come to mind. By definition, public relations is the practice of maintaining a publicly favorable image and presentation of a person or company. In addition to making sure a client is viewed/received in a position way by the public, working in PR also means being skilled at damage control.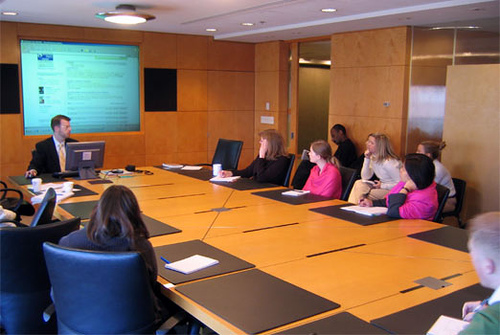 Anyone working in this industry has to be prepared for both the good and the bad.
Those in PR have to work constantly to reassure their clients that every decision being made is in their best interest, often work around the clock to stay on top of the latest happenings, as well make crucial decisions that will positively reflect their clientele.
Careers in Public Relations
There are two main job positions within the public relations industry: PR manager and PR specialist. These two roles interact with each other and their duties sometimes overlap. However, the PR manager is above the PR specialist in terms of who is in control of overseeing the bigger picture and delegating certain tasks in order of priority.
PR specialists are in charge of the very hands-on aspect of managing their clients' reputations, such as writing press releases, using their connections and networking with the media to promote and/or bring attention to clients and planning important events that will generate good buzz.
PR managers take the helm in monitoring the efforts of the PR specialist and ensuring that every task and project milestone is delivered on time and produces the most effective results. By managing the activities and actions of the PR specialists, managers have the power to control the outcome of the final product but must also be open to being accountable in the instance that the results aren't what the client wants.
Educational Requirements
Both PR manager and PR specialist roles require a strong command of communication and the ability to network and interact with tons of different people. Project management skills are also essential, as is multitasking.
The ideal educational background required to successfully pursue a job in the public relations field includes a Bachelor's degree in any of the following areas: Communications, Journalism and Public Relations.
As with most higher positions, individuals hoping to become managers must first start off as specialists and work their way up the corporate ladder.
Reality Check
Whether the clients are world famous celebs, powerful companies or somebody no one has ever heard of, the demands of a public relations manager and specialist are high and a full-time commitment is almost always required. Long hours are common and even when off the clock, those in PR must be available anytime their clients need them.