The demand for careers in technology is growing at a rapid pace–mainly due to society's fascination with all things online and the need to have the latest electronic gadgets. Anytime a new product, software or technology trend crops up, there is a demand from the public. In order to meet that demand and ensure that they are happy, the Information Technology field needs qualified and highly skilled individuals to make sure things are running smoothly. Students with a knack for tinkering with all things related to technology will find themselves fully immersed in the many online IT classes they'll be introduced to while pursuing a degree in this area.
Below are descriptions of basic online IT classes a student can expect to take. It is important to note that the actual course descriptions and names do vary from program to program.
Information Storage Management
As the name suggests, online IT classes that deal with information storage management educates students about the need for data storage and management. The infrastructures designed to house tons of sensitive information for individuals as well as companies is also reviewed, as well as common practices for properly managing such content and ways to ensure security while following set rules, regulations and compliance.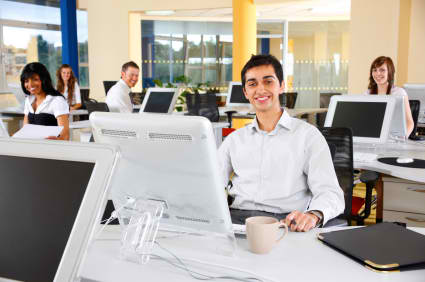 Project Management
Even in the world of IT, there is a need for professionals to have an understanding of project management and implementation. Online IT classes focusing on this subject are designed to show students the importance of learning how to initiate, plan, execute, monitor and control projects, as well as develop leadership and team skills to achieve the best results. Knowledge of this subject is ideal for ensuring that all projects are delivered on time and without conflict.
Database Administration
Working in IT means having extensive knowledge in areas such as database administration. Students must feel comfortable with learning their way around configuring, installing and fine tuning databases as needed. Online IT classes for database administration focus on all aspects of this topic, including the nitty gritty of planning and recovery, as well as network connectivity of various types of databases and their respective platforms.
IT Internship
In order for students to get a better understanding of what they learn in their online IT classes and put their skills to use, almost all IT degree programs have some kind of internship component added to the curriculum. Enrolling in an internship course allows students to gain experience by working part-time in an actual IT company environment. Although internships are mostly unpaid, students do receive credit for their participation. Interns shadow IT professionals and learn the day-to-day operations of that company. As an added benefit, being a part of such an internship could open doors for a future job opportunity upon graduation if the student performs well.
There are a score of online IT classes that are required for students with a serious interest in this field. It is important to review each type of degree program and request information from different online schools to see who is offering what and if they can help you get closer to your career goals.