Calling a dorm room "home" is quite a transition for a majority of college students. There are plenty of checklists for basics that all dorm room dwellers should bring with them to their new space but there are a few that stand out among the rest.
Room Fragrance Device
Because the busy life of being a college student doesn't often allow much free time for cleaning, this can cause a dorm room to smell less than fresh. Purchasing a room fragrance device like the Glade Plugin, or other similar product, is ideal for keeping this living space lightly scented.
What better feeling than to come back to the dorm after a long day of classes and be welcomed by an amazing aroma? Some fragrance products are so technologically advanced that they have the ability to not just produce a wonderful scent but are able to absorb and neutralize bad odors. The result is a welcoming dorm room that you and your roommate will be comfortable in.
Mattress Pad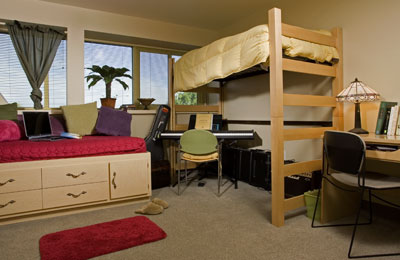 You don't have to be a germaphobe to know that moving into a dorm room means sleeping on a bed that has had many previous occupants. Unlike hotels, you can't always trust how clean the bed/mattress in your dorm will be–not to mention lack of comfort. Make your bed your own by purchasing a quality mattress pad.
Mattress pads are sold in a number of stores and come in a variety of different sizes and types. This product is beneficial because it not only acts as a buffer between you and the well-used dorm mattress, it can provide added comfort, which is ideal for getting a good night's sleep.
Laundry Detergent Packets
When it comes to laundry, detergent packs are the latest must-have product. Students living in dorms tend to suffer from clutter and when laundry day rolls around, it's helpful to have less to carry back and forth. Detergent packets are small, making it easy to stick in your pocket or purse and hold just enough to get the job done.
Because of their compact size, it's easy to store this type of product in even the smallest dorm room without taking up much-needed space. They may cost a bit more but are well worth it when it comes to dorm living necessities.
Storage/Organizer
Don't have the room to accommodate everything you need? Invest in a medium sized storage unit or organizer. These items come in plastic or fabric and in a variety of sizes and combinations. Some come with separate components that you can mix and match, which is ideal for customizing your belongings. Not only does a good storage/organizer unit allow you to keep all your knickknacks and devices in their place, it automatically frees up space.
Paper Plates & Plastic Utensils
Not many students are keen on washing dishes. To avoid this dreaded chore or if you don't have access to a kitchen, learn how to use paper plates and plastic utensils. To be eco-friendly, opt for products that are labeled as being biodegradable, recyclable or compostable.