The beauty of college is that students have the ability to pick and choose what classes they want to take as well as when to take them. However, not choosing a class schedule wisely could make for a stressful semester/quarter. Incoming freshmen may find themselves with the most juggling to do as far as completing their General Education courses and the required core classes for their major. Putting the following 4 tips into practice can help make this part of the class schedule planning process much easier, not to mention more effective.
Tip #1: Determine Your Course Load
The way a student goes about putting together a class schedule is mainly determined by whether they'll be attending college full-time or part-time. In general, a student is considered full-time status if they're taking between 12-16 units. That means back-t0-back classes. Taking on less than 12 units is what qualifies as part-time status. The majority of incoming college freshmen start off with 12 units.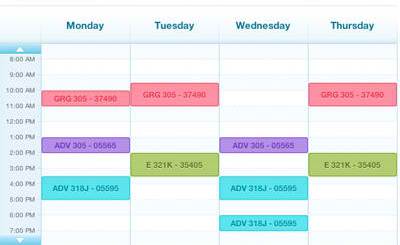 It is important to take your lifestyle into account when choosing your class schedule. For example, will you have to work while going to school? If so, chances are it'll be difficult to balance a full-time course load and fulfill your responsibilities at your job. Students that plan on holding down a job typically find a part-time class schedule more appropriate.
Regardless of what status you are, it's important to begin calculating how many units you'll need to take each semester/quarter in order to meet your preferred graduate date/year.
Tip #2: Don't Go Overboard
Taking on a full-time class schedule isn't impossible but if you don't pay attention to your daily time line for when each course starts and ends, you could be in a lot of trouble. Make it a point to schedule yourself with enough breaks in between classes. Having to hustle from one end of campus to the other is an unnecessary way to stress yourself out. Allowing for a nice cushion can make even a 12-16 unit semester/quarter more bearable to deal with.
Tip #3: Consider the Workload Outside of Class
When choosing classes, pay attention to any additional time commitments required. For example, courses with lab components are typically scheduled twice a week–one day for lecture and one day for working in the lab facilities or going on field trips. Additionally, you'll want to have a general idea of how much time outside of class you'll need to complete homework assignments, write papers, work on class projects, etc.
Tip #4: Have a Backup Plan
It's not always likely that you'll get into every class you want. As a result, play it on the safe side and create a backup class schedule in case the courses you want are full or not available during that semester/quarter. Your backup courses should still be priority units needed to count towards your General Education and/or major core classes. This is the most productive way to knock out your required college credits while waiting for another shot at registering for your first choice classes next semester/quarter.