When it comes to preparing for an interview for a job or internship, there are the common ground rules and guidelines, such as dressing properly, doing research on the company/employer, having a great resume, etc.
But what about behavioral etiquette? Having the right frame of mind and caring about presentation goes a long way in helping college students transform into the "total package" that all employers seek. Below are 4 tips for how to create the right presentation, which starts the minute you step foot into the office/lobby/reception area.
Arrive Early, Not On Time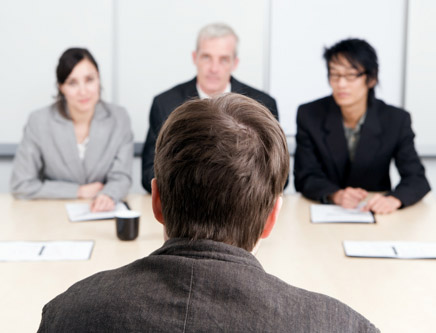 This might sound like it falls under the "common sense" category but it also directly applies to an interviewee's state of mind. Being early in the business world is what's considered "on time."
So if your interview is scheduled for 10:00AM, arrive at 9:45AM, not 10:00AM. College students that are new to the interview game might easily overlook such a small detail.
When you get to your appointment early, it not only makes for a great first impression, it gives you those extra minutes to get into the right mind frame and encourages a positive attitude. Additionally, it allows you to do a last minute check that you've got everything you need, have an idea of what answers you'll give, etc.
Be Polite to Everyone
The interviewer isn't the only person that should see you at your best. The moment you step into the office lobby or reception area, trigger that great personality and greet everyone you encounter with a sincere smile and enthusiasm. If the receptionist tells you the interviewer is a bit delayed, reply positively. Should other employees start small talk with you, engage with them briefly and showcase a pleasant demeanor.
Acting rude or ignoring even one person could backfire–you never know who they know and what feedback they might provide to the interviewer after you leave.
Don't Play With Your Phone
Have a bit of a wait before your interview? Fight the urge to break out your cell phone to text, email, update your Facebook status, etc. While this can be great for passing the time, you don't want your cell phone to become too distracting. Young people already get a bad rap for being obsessed with their phones and you don't want to look like the stereotypical college student furiously thumbing their phone's keyboard or pounding away at the touch screen.
Instead, reach for a magazine or–better yet–pull out a copy of your resume (always bring a copy of your resume with you to an interview) and make sure you know what's on it from top to bottom.
Exercise Patience
Not good with waiting? For an interview, fight your urge to show signs of impatience, such as foot tapping, constantly checking the clock, etc. Above all, don't question the receptionist as to when the interviewer will be ready. Not only is this rude, it comes off as showing that you've got somewhere else more important to be. Even if that is the case, never let your impatience influence your behavior.