Pursuing an MBA is a huge commitment but the first step is to get accepted into an MBA program. With so many fellow students vying for the same opportunities, it is crucial to put every effort into making sure your application stands out from the rest. When it comes time for the MBA admissions interview, a student's performance during this time could make or break their chances of getting in.
However, MBA admissions interviews aren't completely one-sided. It is acceptable to ask the interviewer(s) your own questions. This shows initiative and how important it is to a student that a particular MBA program will truly be the right fit for them. Not sure which questions would work in your favor? The questions listed below will get you the answers you need and garner you brownie points with the interviewer(s) in the process.
Question #1: "What is the School's/Program's Greatest Asset or Selling Point?"
Sure, you know what the website and brochures say are the school or business program's strongest assets, but it helps to hear this information from the source. You might learn something new that wasn't listed in any of your research. If there is more than one interviewer, pay attention to how similar or different each person's answer is.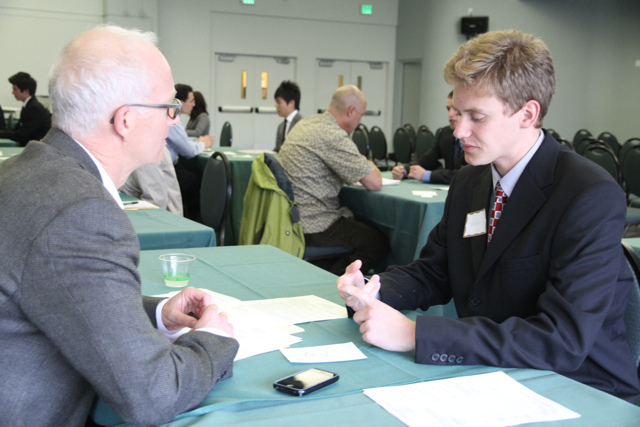 Question #2: "What is the School's/Program's Biggest Drawback?"
This question may sound like one that shouldn't be asked, which is why it should only be brought up if you ask the first question listed above. In a way it serves as a follow up question, which makes it seem less negative.
Just as anyone should know the advantages to something, it helps to also know the disadvantages, if any. Be mindful of the interviewer's reaction. No MBA program is 100% perfect and if they're honest in their reply, that's a good sign that they have nothing to hide.
Question #3: "What Is Your Best Piece of Advice for Someone in My Situation?"
Nothing is better than getting solid advice from someone that knows what they're talking about. This question is best left for towards the end of the interview. By this time, you will have shared enough about yourself, your goals and aspirations for the interviewer to have some wise words for you to take into consideration.
Question #4: Any Question Related to Your Research About the School/Program That Needs Clarification
You should never set foot into an MBA admissions interview without having done research first. It is important to know as much as you can about the school and the business program available. From the official website to brochures and other related materials, you should have basic knowledge about what is being offered. But chances are there's going to be at least one or two things you've come across in your research that you'll have questions about.
If something needs more detail or causes you confusion, write down those questions/concerns so that you'll remember what to ask during the interview. This is perhaps the only time you'll get the opportunity to have those issues addressed so take advantage of it.