As graduation draws closer, it's normal for students to begin running around like chickens with their heads cut off. This is totally understandable, of course. It's difficult to remain calm and collected when there is a lot on a person's plate. From dealing with family and friends arriving to celebrate/attend the ceremony and tying up loose ends on campus to continuing to focus on the remaining classes that still need to be passed, it's easy to imagine a graduation checklist being a couple of pages long.
A college graduation is an exciting achievement in any student's life and as hard as it might be to multitask during this time, handling the following items listed below is a surefire way to cut all ties cleanly upon leaving a college or university.
Make Copies & Organize Important Paperwork
Prior to graduating, find extra time to dedicate to making copies of important documents and organizing them in a way that will make it easy for you to find them in the future. Transcripts and student loan papers are prime examples. Even if you think they won't be necessary right away, it is better to be prepared instead of scrambling to locate these documents at the last minute.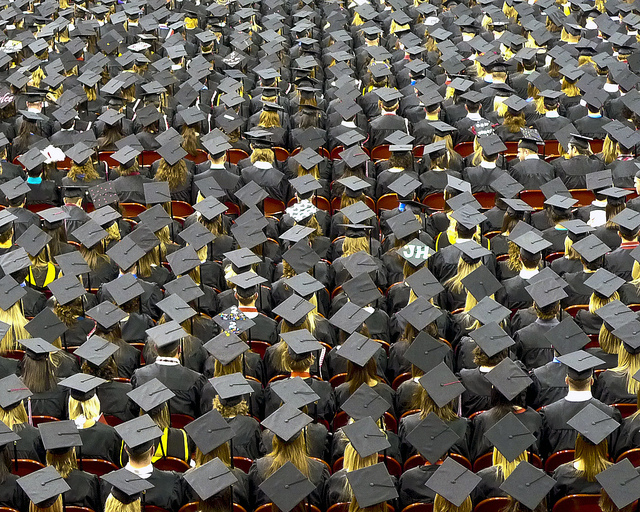 College transcripts can be requested by employers, volunteer/internship organizations and a number of other people at any time–usually when you least expect it. Ordering extra copies and keeping them safely stored away will make retrieving them later much more convenient.
Update Your Mailing Address & Other Contact Information
Taking care of this task before graduation is a great time saver and one less thing to tend to after finishing school. Having your mailing address, email address and other contact info updated well in advance means it'll be less likely that you'll miss certain opportunities or lose touch with valuable contacts/people that are trying to connect with you using outdated information.
Tie Up Loose Ends with Your Living Arrangements
Living on-campus? Then you'll want to double check that your record is clean prior to graduation. That means confirming that you have no remaining balances or charges on any accounts (and paying up on the ones you do have).
Living off-campus in an apartment or renting a room from someone? If you're planning on vacating after graduation, start communicating well in advance with the landlord. Find out what checklist they have (if any) that needs to be followed so you'll be able to move out with no strings attached or issues that would require you to come back at a later date and time.
Reach Out to Your Network of Connections
Over the years, you've undoubtedly networked with a variety of people. Before graduation, start contacting your references, people that have written letters of recommendation for you, working professionals you've networked with, etc. to let them know you'll be graduating soon and would like to keep in touch.
This is the ideal time to provide them with your updated contact information, inquire about their schedule in the coming months and find out about any possible job and/or networking opportunities.