Taking the steps necessary in high school to prepare for the college years is a common practice by many students these days–and with good reason. Individuals that have their hearts set on the future career they plan on pursuing undoubtedly can't wait to get right into their training. Although college is the proper setting, there are ways certain high school courses can give students a taste of what they can expect when it comes to their studies and skills they'll need to develop to be successful in their college major.
English
English continues to be among the most useful high school courses any student can take, regardless of what profession they hope to find themselves in as adults. Traditional English classes challenge students to learn how to strengthen their reading comprehension, writing skills and ability to communicate with others about what they've read or written. It also teaches analytical skills.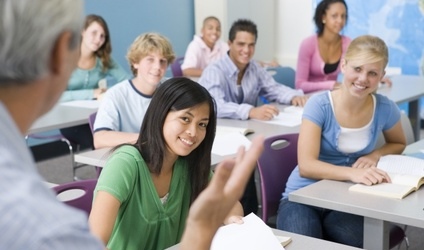 Excelling in this course during high school is ideal for preparing students for college level coursework, specifically for future Law degree majors.
Sciences
With the healthcare field continuing to experience tremendous growth, medical schools everywhere are becoming flooded with applications from potential medical students. High schoolers will want to start the path towards their medical career early on by successfully passing any classes related to the Sciences.
Future doctors and nurses in particular need to become familiar with subjects like Chemistry, Biology and Human Anatomy. Find out what advanced Science courses your school has and dive right into them. What you'll learn during these years before college will make it much easier to comprehend the college level work you'll encounter in the future.
Communications
Whether the career choice you plan on following involves interacting with a ton of people or only a few, you can't go wrong with mastering the skills learned through Communications classes. High schools across the nation offer many courses that introduce students to the various ways in which Communications plays a role in their lives. From public speaking to the debate team and other related subjects, the skills gained are invaluable.
Lawyers, healthcare professionals, teachers and businesspeople have to be strong communicators to not only get their message across but to accurately interpret feedback and instruction they receive from others.
Foreign Language
While not mandatory for all college majors, it doesn't hurt to learn a foreign language. Of course high school students that dream of working in the global marketplace in areas like Business or Public Relations will need to become fluent in their chosen foreign language early on.
However, other college majors can also benefit from knowing a foreign language. Areas like healthcare, law and even the education industry requires exposure to individuals from different cultural backgrounds–oftentimes those that either don't speak English or have learned it as a second language.
Want to make a great impression on a college or university? Sign up for as many of these core classes that your high school has to offer. Better yet, enroll in AP (advanced placement) level courses.