Being a student with disabilities is a challenge all its own. For these individuals, it isn't just a matter of affording college but adjusting to a new environment. The good news is that there are a variety of scholarships available that are specifically designed to assist disabled students with accomplishing their academic goals.
Anne Ford Scholarship
For: Students with learning disabilities.
Reward Amount: $10,000 scholarship awarded in $2,500 installments per year for four years.
Requirements: Applicants for the Anne Ford Scholarship must have a documented learning disability, be in their graduating year of high school, a U.S. citizen and already accepted into a 4-year bachelor's degree program. A cumulative 3.0 GPA  must also be maintained, as well as demonstrated financial need.
Additional Info: A completed application consists of the application form itself, high school transcript, documentation of the learning disability, personal statement, financial statement, 3 letters of recommendation and scores from standardized tests.
Schwallie Family Scholarship Program
For: Students with Autism or Asperger Syndrome.
Reward Amount: Awards of $3,000 each across 3 categories (4-year undergrad, 2-year undergrad and trade/tech/vocational school). These are one-time awards.
Requirements: Applicants must be diagnosed as having Autism or Asperger Syndrome. They must be accepted into an accredited post-secondary school, enrolled at least part-time and/or actively working towards certification or accreditation in a specific field.
Additional Info: Important factors that play roles in the final decision include but are not limited to financial need, quality of application, future aspirations and previous challenges the applicant has overcome.
SpinLife.com "Innovation in Motion" Scholarship Program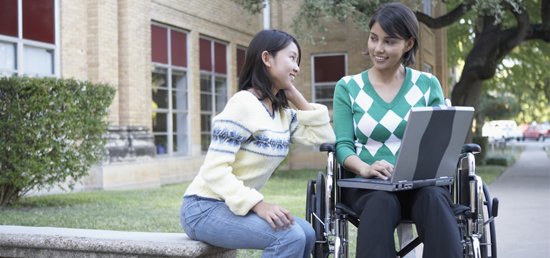 For: Students that are wheelchair users.
Reward Amount: One-time $500 scholarship.
Requirements: Applicants must be at least 18 years of age or older, a U.S. citizen (those with a valid student visa are also eligible to apply) and an active wheelchair user (either manual or power). They must also be currently accepted into a 4-year, accredited post-secondary institution as an undergraduate student. A cumulative GPA of 3.0 has to be maintained as well.
Additional Info: Aside from the application form itself, recipients will be chosen mainly on the creativity of their submission and essay, as well as merit. Winners will have their photo, name and essay featured on the homepage for the website SpinLife.com.
While it is tempting to only choose the highest paying scholarships, the best results can be accomplished by submitting to several opportunities that offer smaller award amounts.
In addition to securing the funds needed to pay for college-related expenses, it is important for disabled students to take the time to choose wisely which schools they plan on applying to. It is recommended that students with disabilities consult with their school counselor in order to identify which institutions offer not just the best degree programs of interest but also actively promote a learning atmosphere that is designed to help students become successful.
Such schools typically have facilities that cater to all types of students, including those with disabilities and special needs, as well as a score of resources and staff that understand how to relate to these individuals and encourage them to excel.