The New Jersey Institute of Technology is a well respected school that is known for the strength of its degree programs and talent for combining both the liberal arts with technical education. Although NJIT already boasts 50+ Master's degree programs, it has added a handful of new options to choose from.
Below are just 3 of the latest programs NJIT has to offer:
Master of Science in Bioelectronics
Students fascinated with Electrical Engineering, Biology and Electronics can now have the best of all three worlds by studying for a Master's degree in Bioelectronics. In keeping with the advancements in technology as it applies to medicine, this particular degree teaches students how to design and build biomechanical devices for the purpose of improving and extending human life.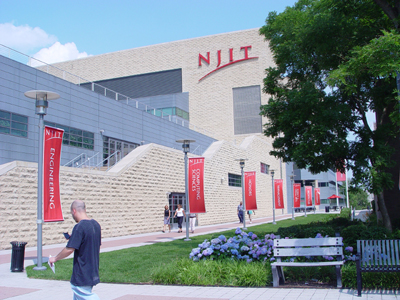 Graduates of the Bioelectronics program at NJIT will come away with an in-depth understanding of how to work with nano and mico-electric materials, biomedical imaging and biomedical devices and systems, as well as how to put their skill set to good use in therapeutic, clinical and diagnostic applications, among others.
Even working professionals wanting to get into this field are able to take the Master's degree. NJIT offers weekend and evening courses, which means being able to obtain this degree on a part-time schedule.
Master of Science in Critical Infrastructure Systems
One of the most talked about subjects today is the importance of improving the nation's infrastructure. Not only does this mean providing safer bridges, tunnels, highways and other related structures, but training for a field that is projected to explode in terms of employment opportunities.
Majoring in Critical Infrastructure Systems at NJIT means learning the ins and outs of the infrastructure system. This degree program also blends a variety of other disciplines that are directly applicable to today's need for newer and improved methods, resources, materials and ways to implement them. Such disciplines include information systems, architecture, electrical and computer engineering, management and public health infrastructure management, among others.
Like the Master of Science in Bioelectronics, there is the option to enroll part-time by taking weekend or evening courses.
Master of Science in Power and Energy Systems
Just as the subject of infrastructure systems is gaining more attention, so is the subject of producing and sustaining efficient energy sources. Students studying for their Master's degree in Power and Energy systems will be introduced to the latest innovations and green ways for meeting the demands for energy across the nation.
Through this degree program, students will gain intimate knowledge of various systems and operations, such as the latest advancements in renewable energy sources, power systems, distribution and management systems, fuel-cells and energy control, production and management systems.
Evening and weekend courses are offered to working professionals interested in earning their Master's in Power and Energy Systems on a part-time schedule.
Other graduate degree programs NJIT is rolling out for students includes a Master's degree in:
Engineering Management
Biostatistics
Business & Information Systems
Computing & Business
Emergency Management & Business Continuity
Healthcare Systems Management
IT Administration & Security
International Business
Pharmaceutical Chemistry
Pharmaceutical Systems Management