Heading off to college is both an exciting and unnerving time for students, as well as their families. Colleges and universities know this, which is why they regularly hold college orientations each year so that incoming students have the opportunity to start this stage in their lives on the right foot.
It's a Hands-On Experience
These days colleges and universities across the country are putting more effort into their orientation events so that students have the highest rates of success with making the transition to college life. While no two events are the same, most orientations take place over the course of 1-2 days and comes with an agenda, filled with detailed lists of activities available.
Among the number of activities offered, there are panel discussions students and their parents can sit in on, seminars/group sessions, social events, the opportunity to take placement tests and even register for classes.
Parents Don't Need to Be With Their Child At All Times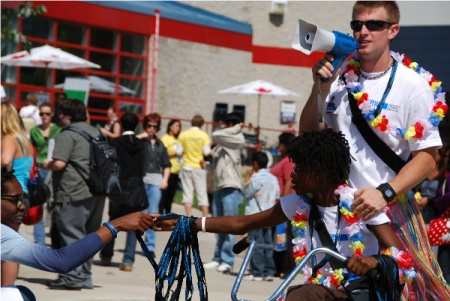 There's a reason why college orientations schedule their agendas so that students and their parents are separated. Some discussion panels and seminars are specifically for students and there are also panel discussions and group sessions just for the parents. This allows for the ability for each group to receive relevant information and get their questions and concerns addressed directly by campus staff.
Additionally, separating students from their families cuts down on the distraction and the tendency some parents have to be a bit overbearing with their questions and input.
Parents, allow your child to pick and choose the events he/she wants to attend and give them this time to explore the campus, meet other students and get a better feel of what will soon be their new home. There will be chances to reconnect in between activities or plan which events you want to attend together.
Families with younger children are encouraged to leave them at home with a sitter to prevent unnecessary distractions. However, some campuses offer family-friendly orientations that have accommodations for those with younger children, including activities that are appropriate for those age groups. It is best for parents to check ahead of time with their child's school to find out if bringing other kids is an option.
Missing Orientation Could Cause Setbacks
Don't think attending college orientation is a big deal? Think you can figure out campus life on your own? Although going to an orientation isn't always mandatory, it is in a student's best interest to make the time to be a part of this event. It isn't just about taking the campus tour and socializing, it's a chance to get ahead of the crowd and plan accordingly before making the move.
Orientation is a vital time for students to take placement tests and choose their class schedule with the help of an academic advisor. Skipping out could mean being in the dark when it comes to knowing which courses to take in the first year, not knowing how to navigate the campus and not getting a good deal on dorm rooms and selecting a roommate.