Cosmetology has always been a popular area of interest for students that may not necessarily be interested in attending a traditional 4-year college or university. With the right cosmetology school and training, any graduate of this program can find work at a high end salon, day spa or even go into business for themselves as an entrepreneur.
Unfortunately, as with any other type of schooling, pursuing a career in cosmetology is going to cost some money. The good news is that financial aid like scholarships aren't just limited to students enrolled at regular colleges and universities.
Joe Francis Haircare Scholarship
The Award: $1,000 per recipient. Half of the award amount is paid to the school in September, with the second half paid in the month of the year that the recipient is scheduled to graduate.
The Requirements: This scholarship opportunity is open to any student currently enrolled in a cosmetology or barber school program or is currently applying for entrance into a cosmetology or barber school. However, students scheduled to graduate between January 1 and August 31 of the current award year are not eligible. Applicants must be attending school with the goal of becoming an actual cosmetologist or barber–this means nail techs and estheticians are not eligible for this award.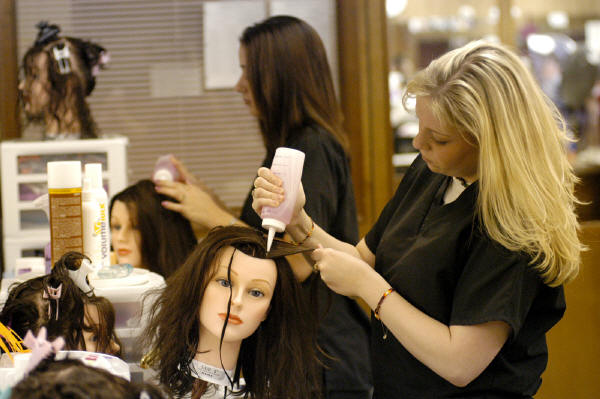 The Application Process: In addition to completing the form, applicants must include a one-page essay explaining their financial need, why they want to become a cosmetologist and discuss their ambitions/interests/family history. 1-2 letters of recommendation are also required.
American Health and Beauty Aids Institute Cosmetology Scholarship
The Award: $3,000 scholarship that is awarded in $250 installment amounts.
The Requirements: Applicants must be accepted or currently enrolled in a cosmetic art training facility that has been State-approved. In order for the school to receive the award amount, the recipient must have completed at least 300 hours and maintained a minimum grade and attendance rate of 85% each.
The Application Process: Aside from filling out the application form, applicants must submit a transcript from the cosmetic art training facility they're attending and 2 letters of recommendation.
Oregon Barber and Hairdresser (B&H) Grant Program
The Award: These are one-time scholarship awards. The amount varies each year and is determined by the amount of interest the B&H fund has earned.
The Requirements: Applicants must be a resident of Oregon and currently enrolled as a student at a licensed barber, cosmetology, manicure or hair design school in the state. Students must be full-time status and in a program that is either 9 months long or gives them a minimum of 900 clock hours of training. However, the licensed school must also be a participant in both the Barbers and Hairdressers Grant Program and Federal Title IV financial aid programs. Additionally, applicants have to demonstrate great financial need.
The Application Process: There is no official application form that needs to be filled out for the Oregon Barber and Hairdresser Grant Program. To be considered, applicants need to fill out the FAFSA and include the name of the school they are attending or plan on applying to. If selected, the recipient's school will notify them.