Many colleges and universities across the country are known for the strength of their degree programs, great retention rates, impressive alumni, etc. However, not as many are properly recognized for factors such as providing and promoting a stellar environment for students with learning and physical disabilities.
For families with children that have disabilities, the challenge of preparing them for a college education can be very overwhelming. From grade school to secondary school, students with disabilities typically have a variety of resources and programs available to them when it comes to having assistance with the daily routine of attending classes. However, college is known for emphasizing the air of independence that many students take in stride. But what about those that cannot do such things on their own?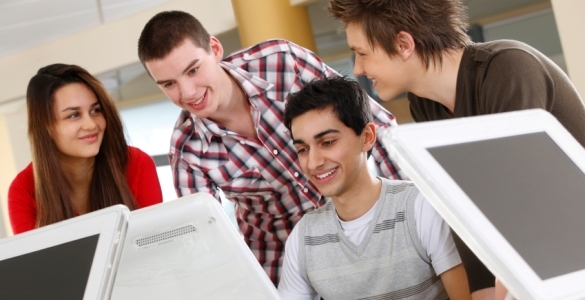 The good news for students with disabilities–and their families–is that a growing number of colleges and universities are identifying the needs of this particular student demographic and have taken the steps necessary to ensure a quality education for students with various learning and physical disabilities.
To date, there are almost 100 colleges and universities that provide some form of services, programs and/or accommodations for students with disabilities. Below are 3 such colleges that have been recognized for going above and beyond in this category:
Landmark College, Vermont
Perhaps the most well known school for promoting the education and best interest of students with learning and physical disabilities, Landmark College has made its mission about turning "disabilities into assets." As a smaller and more specialized school, Landmark has managed to transform its campus into one that is highly beneficial for its entire student body.
In addition to having resources and staff for educational needs, the school even offers opportunities for its disabled students to participate in special study aboard programs in countries like Costa Rica, Greece and Ireland.
Augsburg College, Minneapolis
One of the most impressive aspects of Augsburg College is its CLASS program. Short for the "Center for Learning and Adaptive Student Services," this program serves the purpose of ensuring the quality of education each student with a disability receives by providing important services, including but not limited to: assigning individuals to help students with note-taking, finding textbooks on tape, arranging for extended test times and improving test taking conditions by reading exams aloud, acting as a scribe and/or scanning test papers.
What makes the CLASS program even more beneficial is that it is free of charge for students to receive the services and assistance they need.
University of Arizona
The University of Arizona believes in not just having the right accommodations for students with learning and physical disabilities but providing them with the resources necessary to promote empowerment and teach them how to create a tailored routine for their lifestyle.
These goals are accomplished through the University of Arizona's SALT program, which stands for "Strategic Alternative Learning Techniques." Students in the SALT program have access to state-of-the-art technology programs, workshops and assigned learning specialists. Subjects like time management, health and nutrition and services like tutoring, among many others, are regularly addressed.